RECIPE
Mary's Classic Soda Bread

RECIPE.TV Chef Catherine Fulvio of "A TASTE OF IRELAND: Ballyknocken Cookery School" bakes her mother's recipe, "MARY'S CLASSIC SODA BREAD," for her Thanksgiving dinner. Here's the recipe to help you create your own luscious loaf during the holiday season! Sláinte! Cheers!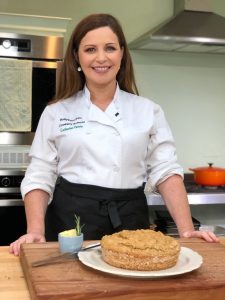 Mary's Classic Soda Bread
Makes 1 round loaf
INGREDIENTS
8 oz plain flour 

8 oz wholemeal (whole wheat) flour 

1 tsp salt 

1 tsp baking soda 

1 tbsp molasses or treacle

1½ oz butter, melted (about 2 tbsp), plus extra to brush

1 free-range egg, beaten

13½ fl oz buttermilk 

DIRECTIONS
Preheat the oven to 200

°

C/fan 180

°

C/390

°

F/ fan 350

°

F/gas 6. Brush a 30fl oz Pyrex bowl with melted butter. 

Place the flours and salt into a large bowl. Sift in the baking soda and mix well. Add in the molasses, melted butter, and egg and pour in most of the buttermilk. Mix to form a soft dough adding in more buttermilk as needed. Transfer into the prepared Pyrex bowl. 

Bake in the preheated oven for 40 minutes. To check that the loaf is cooked, tap the base – it should sound hollow. 

Transfer to a cooling rack. If you want a soft crust, cover with a damp tea towel.