RECIPE
Ballyknocken French Toast with Roast Plums and Goat Cheese
A Taste of Ireland: Ballyknocken Cookery School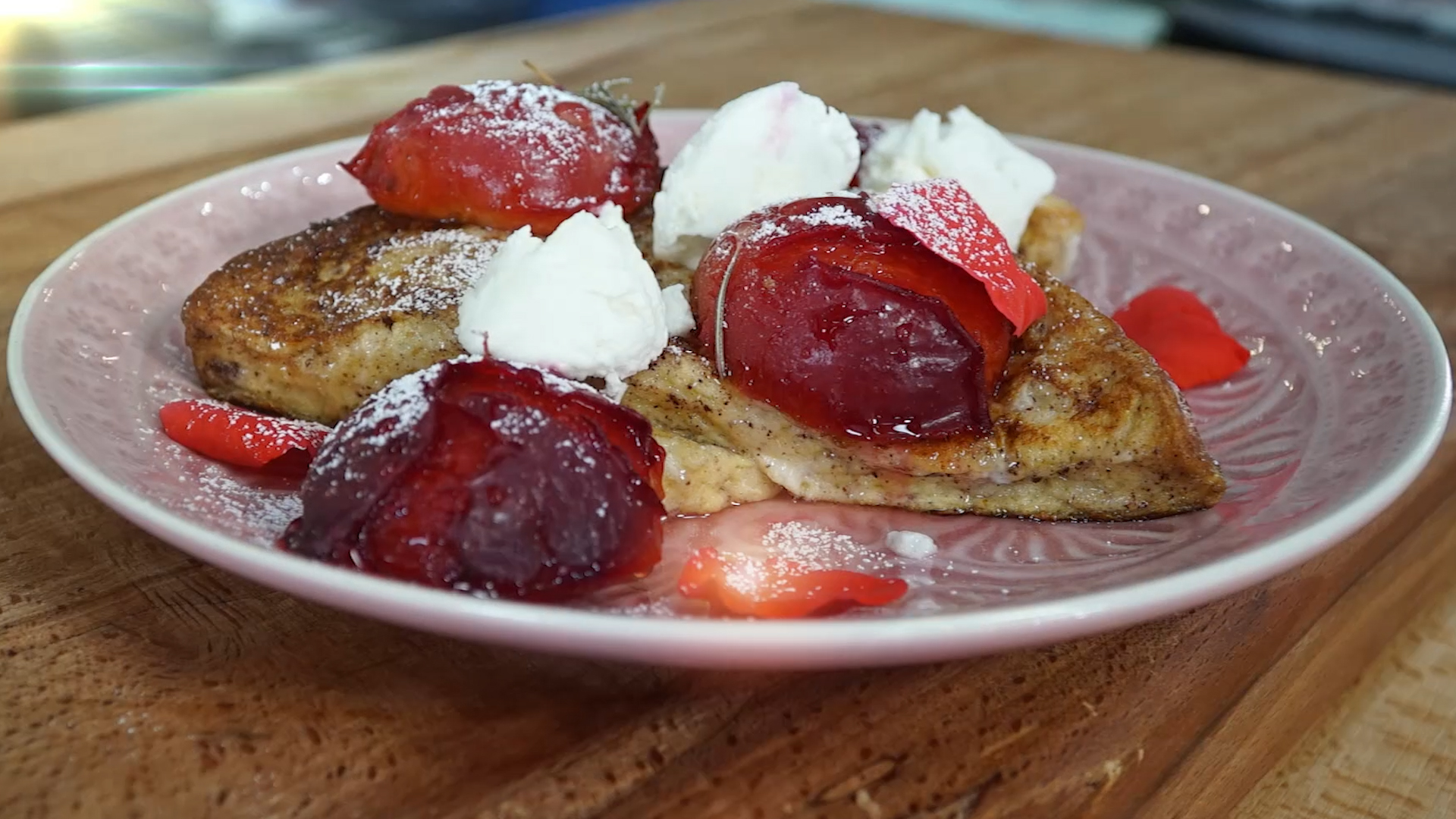 Servings: 2 Servings
Author: Chef Catherine Fulvio
For the syrup and plums:
Ingredients:
½ cup caster sugar
½ cup water
10 organic rose petals
3 plums, stones removed and sliced in wedges
1 tbsp local honey
3 to 4 sprigs of rosemary
Instructions:
To make the syrup, pour the sugar and water into a medium saucepan over a high heat. Bring to a boil and then reduce the heat to a simmer. Simmer for about 8 minutes until a light syrup forms. Remove from the heat and add the rose petals. Leave to cool completely before using. Remove the petals. This will keep in your fridge for 2 weeks.
To roast the plums, preheat the oven to 325°F. Line a baking tray with parchment, add the plum wedges and spoon over the honey and rosemary sprigs. Roast for about 10 to 12 minutes, keeping an eye on them as they should be just softened. Set aside to cool.
For the French toast:
Ingredients:
2 large free-range eggs
¼ cup milk
1 tbsp powdered sugar
a pinch of cinnamon
2 thick slices farm style country loaf bread, cut on the diagonal
butter and rapeseed oil (or canola), for frying
¼ cup goat's cheese, to serve
powdered sugar, to dust
a few edible rose petals, to decorate
Instructions:
Whisk the eggs together, add the milk, cinnamon and icing sugar in a large shallow dish.
Heat a little butter and oil in a large non-stick frying pan over a medium heat.
Using a fork, dip both sides of the bread into the egg batter and carefully place in the frying pan. Cook until lightly golden on both sides.
Using a spatula, transfer 2 pieces onto each serving plate, arrange the plums on top of the toast, spoon over some syrup and add small spoonfuls of goat's cheese on top.
Dust with powdered sugar. Decorate with edible rose petals and serve immediately.