RECIPE
Braised Lamb Shoulder in Red Wine & Bean Sauce
A Taste of Ireland: Ballyknocken Cookery School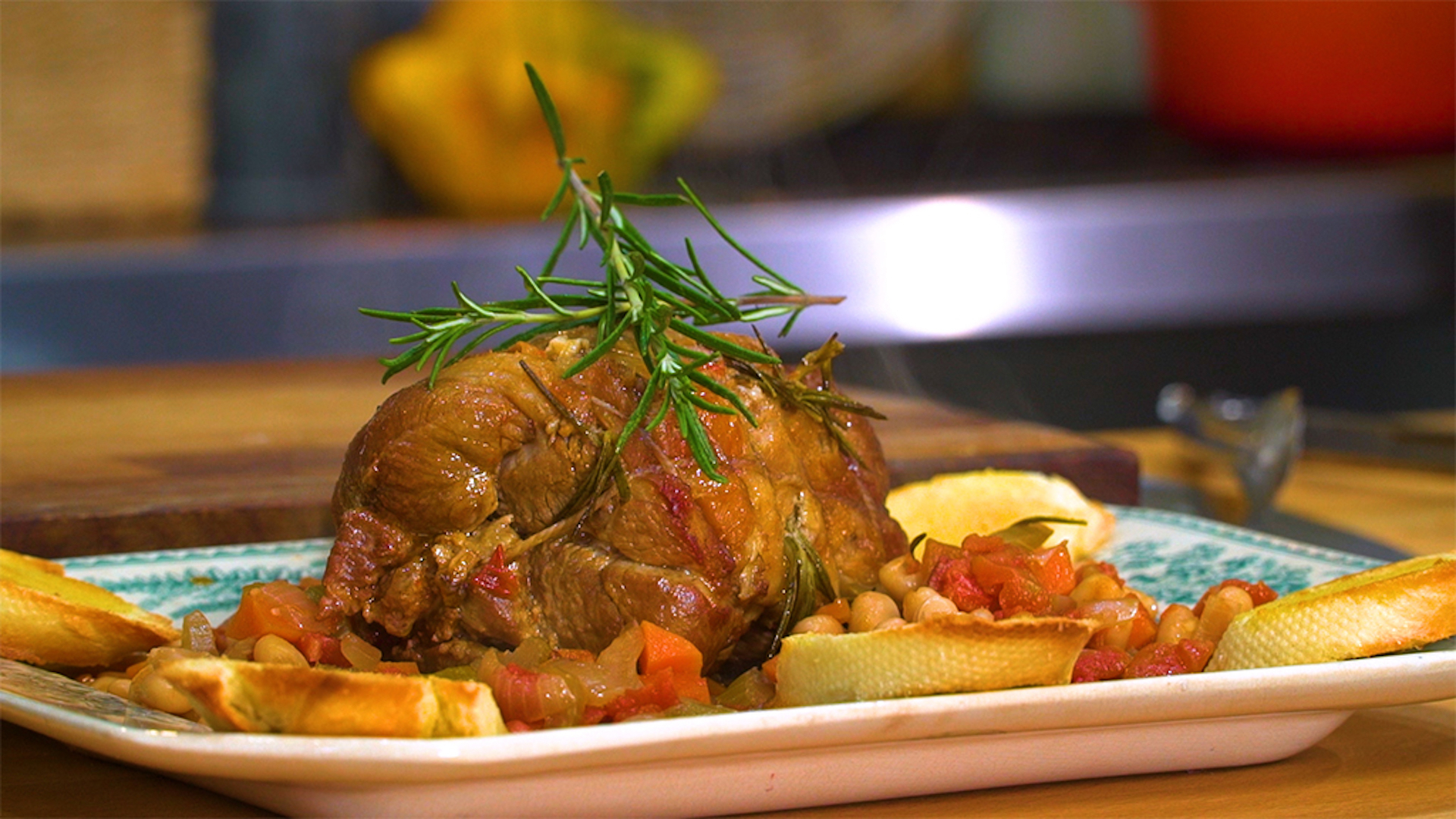 Servings: 6
Author: Chef Catherine Fulvio
Ingredients:
• 2½ lb shoulder of lamb, trimmed, boned, and tied
• 3 large garlic cloves, cut into quarters
• 12 very small sprigs of rosemary
• ¼ lb bacon, diced
• 1 onion, finely diced
• 3 carrots, finely diced
• 3 celery stalks, finely diced
• 1 leek, finely diced
• ½ cup red wine
• 1 ¼ cup lamb stock
• 1 ½ cups canned diced tomatoes
• 3 sprigs of fresh thyme
• 2 bay leaves
• 1 ½ cups cooked cannellini beans, rinsed and drained
• salt and freshly ground black pepper
• extra virgin olive oil
Instructions:
1. Heat the oil in a large frying pan and brown the lamb on all sides. Remove from the pan and leave to stand until it is cool enough to handle.
2. When the lamb is cool, make 12 deep incisions into the meat, push a piece of garlic and rosemary into each incision. Set aside.
3. Heat a little olive oil in a pan over medium heat, add the bacon and onion and sauté for 5 minutes, stirring from time to time. Add the carrots, celery, and leek to the pan and cook for a further 10 minutes until softened. Stir in the red wine, add the stock, and chopped tomatoes, and season with salt and fresh ground black pepper.
4. Add the thyme sprigs and bay leaves and stir in the beans. Return the lamb to the pan and cover with the lid and simmer over low heat for 1 ½ hours, until the lamb is cooked and tender, checking from time to time. Using tongs, turn the lamb halfway through the cooking time.
5. When cooked, remove the lamb from the casserole using slotted spoons, cover with foil and keep warm to rest for 10 minutes.
6. Remove the string from the lamb and carve the meat into thick slices. Remove the thyme sprigs and bay leaves from the vegetable and bean mixture and carefully skim off any fat from the surface.
7. To serve, spoon the vegetables onto warmed serving plates and arrange the sliced lamb on top.