RECIPE
Buttermilk Panna Cotta with Honeycomb
Paris Bistro Cooking with Edward-Delling Williams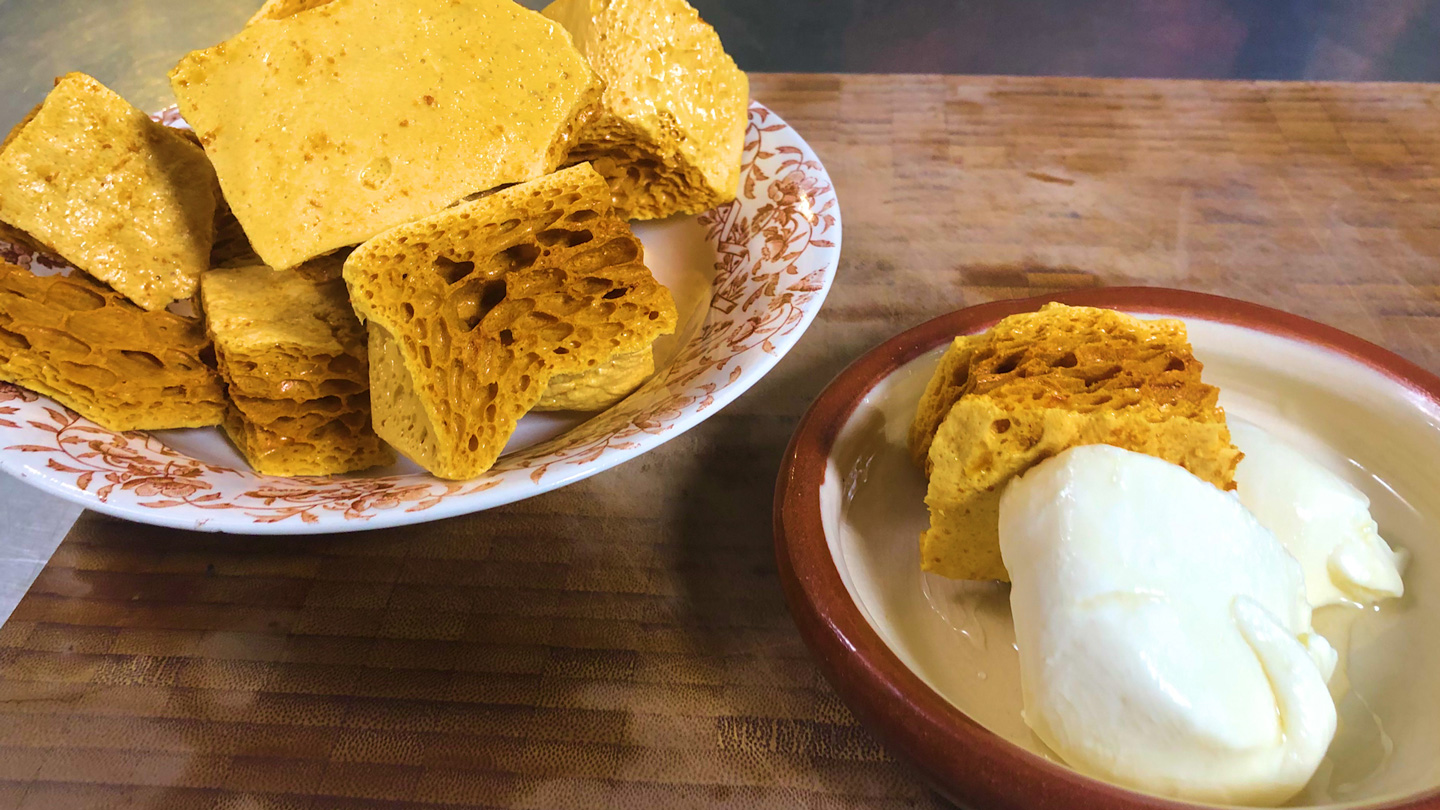 Buttermilk Panna Cotta with Honeycomb
Ingredients
2 ½

cups

cream

1

cup

fresh buttermilk

¼

cup

sugar

2 ½

leaves

gelatin

pinch of salt

½

cup

honey

¼

cup

sugar

1

heaping tbsp baking soda
Instructions
Break down the gelatin and place into a bowl, then cover it in water and let it sit for 5-10 minutes to soften.

Mix half the cream (1¼ cups) and the buttermilk into a large container and set aside.

Pour the rest of the cream, the sugar, and the salt into a large saucepan over medium heat. Bring it to a boil, whisking continuously until sugar dissolves, then remove from heat.

Stir in the gelatin and whisk until dissolved, then pour it into the cream and buttermilk mixture.

Place the mixture into the fridge to set for at least 2-4 hours.
For the Honeycomb
Add the honey and sugar to a saucepan over medium-high heat, whisking continuously until the mixture reaches exactly 289°F.

As soon as the mixture reaches 289°F, rapidly whisk in the baking soda. Once incorporated, pour the mixture into a 9×9-​ inch greased pan and set aside to cool for at least 1 hour.

Break and slice the honeycomb into small chunks and serve with a scoop or two of the Buttermilk Panna Cotta.