RECIPE
Christmas Apple and Blueberry Trifles
Holiday Recipes from Catherine's Farmhouse Kitchen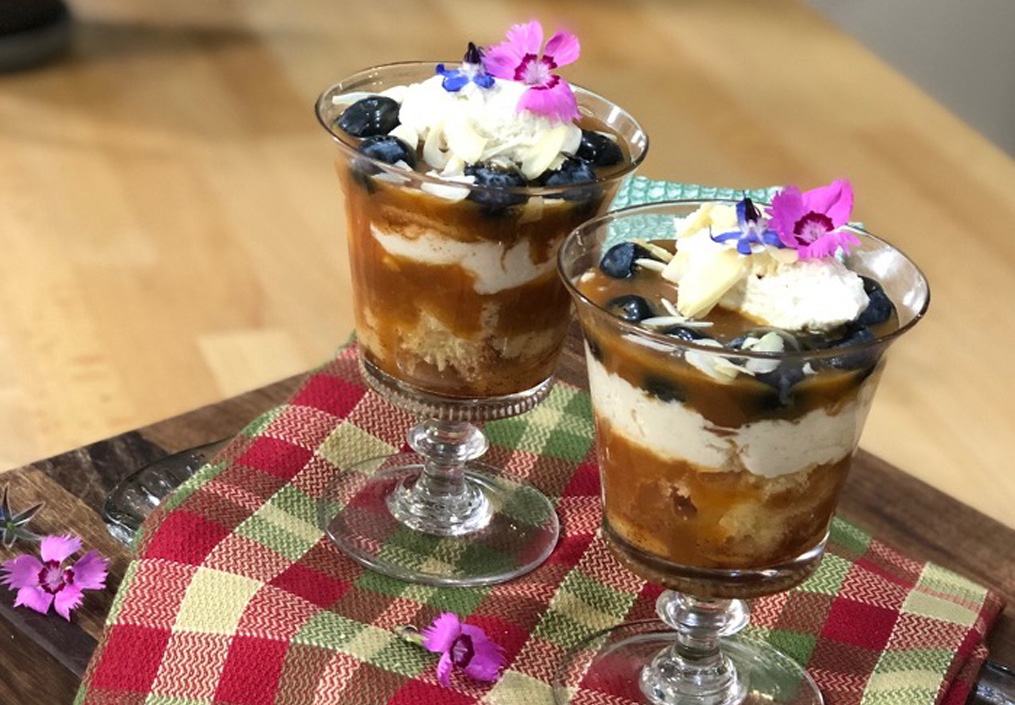 Servings:  Makes 7 to 8 depending on the size of the glasses 
Author: Chef Catherine Fulvio
7 oz vanilla sponge cake, thinly sliced 
For the caramel 
7 oz caster sugar 
10 fl oz cream  
For the apples 
4 large apples, your favorites, peeled and sliced into thin wedges 
2 oz caster sugar  
½ tsp cinnamon  
5 fl oz water  
3½ oz blueberries 
For the cream  
7 oz mascarpone  
6¾ fl oz cream 
2 oz icing sugar 
¼ tsp cinnamon  
Pinch of nutmeg 
1 lemon, zest and juice  
4 tbsp toasted flaked almonds 
Reserve 3 tbsp of caramel, to decorate 
Choose pretty little glasses for your trifles 
To make the caramel, heat the sugar in a non-stick saucepan over a medium heat until it is melted and a pale golden.  Take it off the heat and pour in the cream, be careful this will bubble up.  Stir with a wooden spoon.  Remove from the heat and set aside.  
To prepare the apples, add the sugar, lemon, ground cinnamon and the water to a large frying pan, stir in the apples and sauté until softened and slightly broken up. Adjust the seasoning in the apples by adding a little more cinnamon if you like. Leave to cool. 
For the cream mix, combine the mascarpone, cream, icing sugar, cinnamon, nutmeg and lemon zest together in a bowl.  Set aside. 
To assemble the trifle, spoon a few apple wedges on the base of the glasses.  Add a layer of sponge cake. Spoon over a layer of caramel and cream, sprinkle over some toasted almonds followed by more apple wedges and a few blueberries.  
Repeat the layers ending with a cream layer for all the glasses.  
Pipe small cream rosettes around the edge, drizzle caramel in the center and sprinkle over the flaked almonds.