RECIPE
Endive With Fresh Ricotta and Roasted Yeast Dressing
Paris Bistro Cooking with Edward Delling-Williams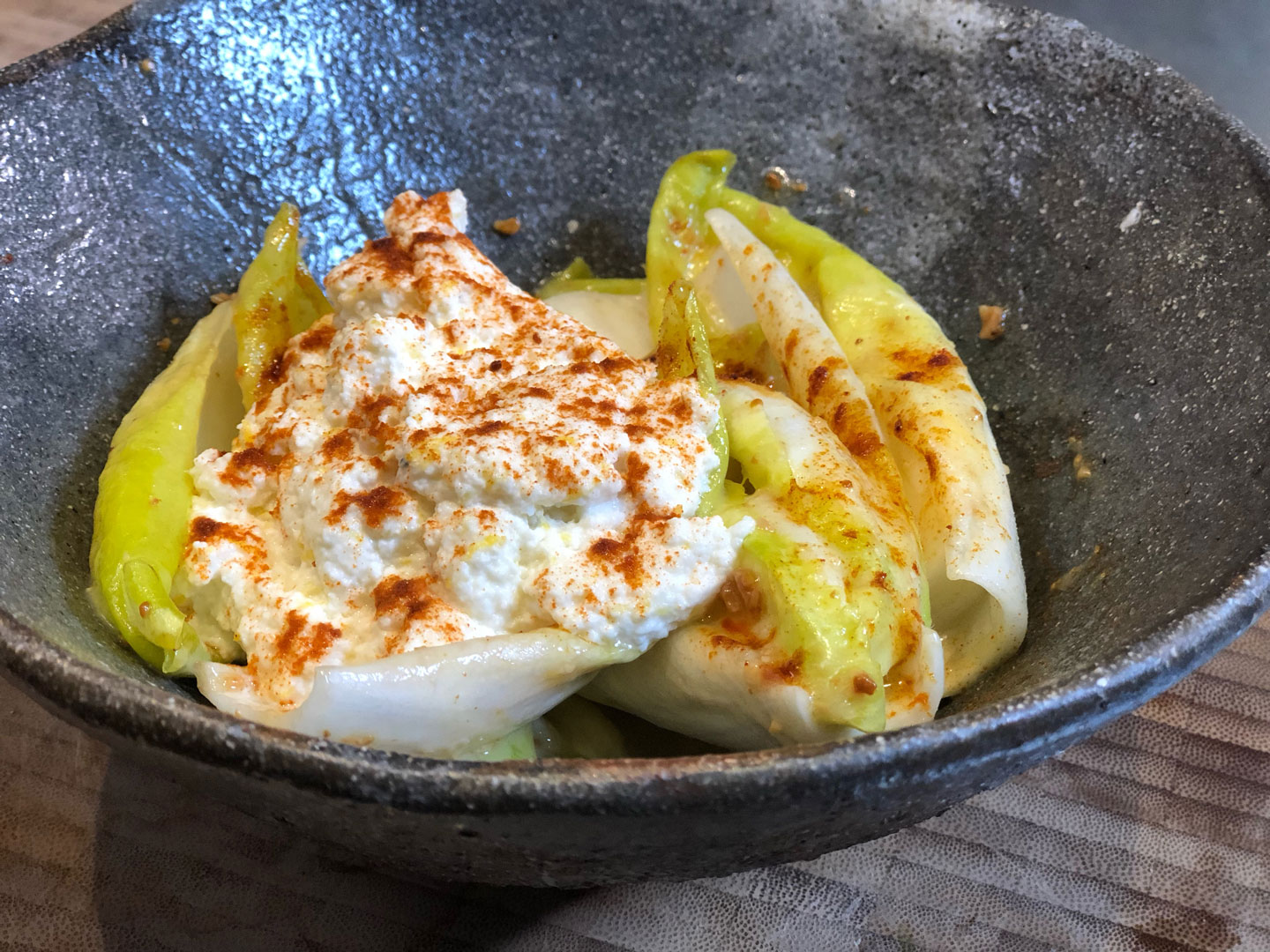 Endive With Fresh Ricotta and Roasted Yeast Dressing
Ingredients
1

liter

milk

(unpasteurized or pasteurized)

juice of two lemons (about 12 oz), plus two teaspoons of lemon juice

zest of two lemons (about 2 tbsp)

¼

cup

roasted yeast

1

egg

1

cup

olive oil

1

tsp

Dijon mustard

pinch of salt

pinch of smoked paprika
Instructions
For the Fresh Ricotta
Pour 1 liter of milk into a saucepan over medium heat. Allow it to slowly reach 185°F (using an instant-read or infrared thermometer to monitor the temperature).

Once the temperature has reached 185°F, remove from heat and gently stir in the lemon juice.

Allow the milk to sit for about ten minutes as the lemon juice works to split the milk, curdling it into curds and whey.

Once the clumps of curds have separated from the whey, place a Handi Wipe© (or cheesecloth) on top of a sieve over a bowl and pour the milk over it, leaving it to strain. Be careful to keep the pot underneath in order to save at least 18 oz of the whey for the "Pan-Fried Oyster Mushrooms on an English Muffin" dish shown later on this episode.

Allow the ricotta to strain between 5-15 minutes depending on desired consistency (more time for firmer ricotta).

After the ricotta has finished straining, gently pull at the edges of the cloth to shift the ricotta from the sides to the center where it's still wet. Then, leaving the ricotta on top of the cloth and inside the sieve, rest the sieve onto a plate and place it into the fridge to cool for at least an hour.
For the Roasted Yeast Dressing
Pour ¼ cup of roasted yeast into a mortar and pestle and grind it down until it reaches a breadcrumb-like consistency. Set aside.

Prepare a hand whisked mayonnaise by adding the egg, two teaspoons of lemon juice, salt, mustard, and just one splash of the olive oil into a bowl and begin to whisk.

Slowly add the rest of the olive oil as it emulsifies into the rest of the solution. Continue whisking for about 3 to 4 minutes.

Stir in the ground down yeast.
Assembly
Chop the bottoms off two medium-size endives and pull all of the leaves apart, then place them into a pan along with the endive cores.

Remove the ricotta from the fridge and place it into a bowl, folding in the lemon zest, and a pinch of salt without over-stiring. Set aside.

Liberally pour the dressing across the endives in their pan and toss them to coat. Place them into a bowl and place a large dollop of the ricotta on top. Sprinkle with a pinch of smoked paprika and serve. Enjoy!