RECIPE
Endives, Lardons & Cream
French Country Cooking with Edward Delling-Williams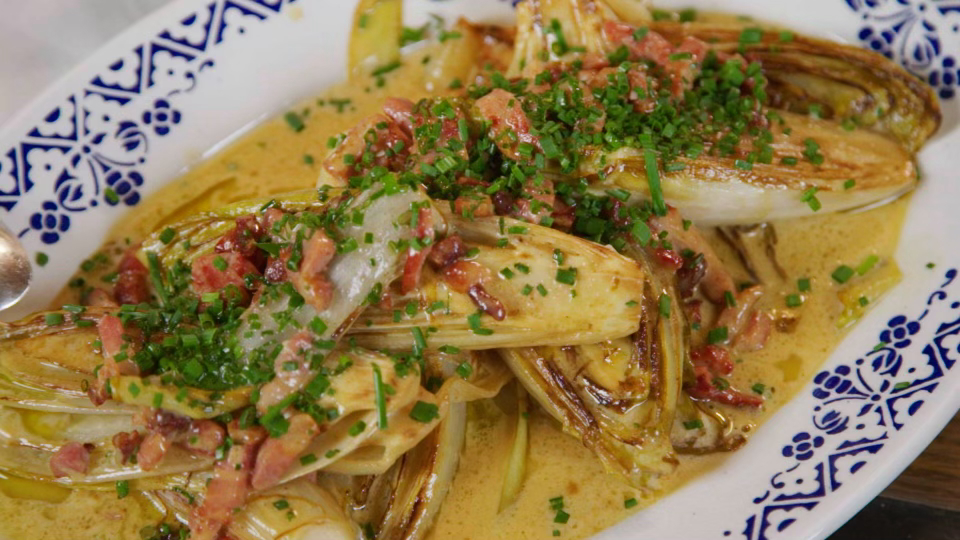 Servings: 3
Author: Chef Edward Delling-Williams
Ingredients:
3 whole endives
1 lb bacon lardons
2 cups cream
½ tbsp olive oil
½ tbsp apple cider vinegar
pinch of salt
Instructions:
Place the lardons into a pan over medium heat and get them frying off and releasing all their lovely bacon fat to cook the endives in.
While the lardons cook, wash and cut the endives in half.
Once the lardons are finished remove them from the pan and place the endives cut side face down and cook them for about 10 minutes to caramelize them. When they are nearly, but not totally cooked through, flip them over and pour in the cream.
Cook, stirring often, until the sauce coats the back of a spoon, 3 to 4 minutes. Reduce the heat, add the vinegar, and reintroduce the lardons. Cook for another 3 to 4 minutes.
Serve and season with salt and a splash of olive oil and eat like a maniac!