RECIPE
Greek Style Butterflied Leg of Lamb
Catherine's Farmhouse Kitchen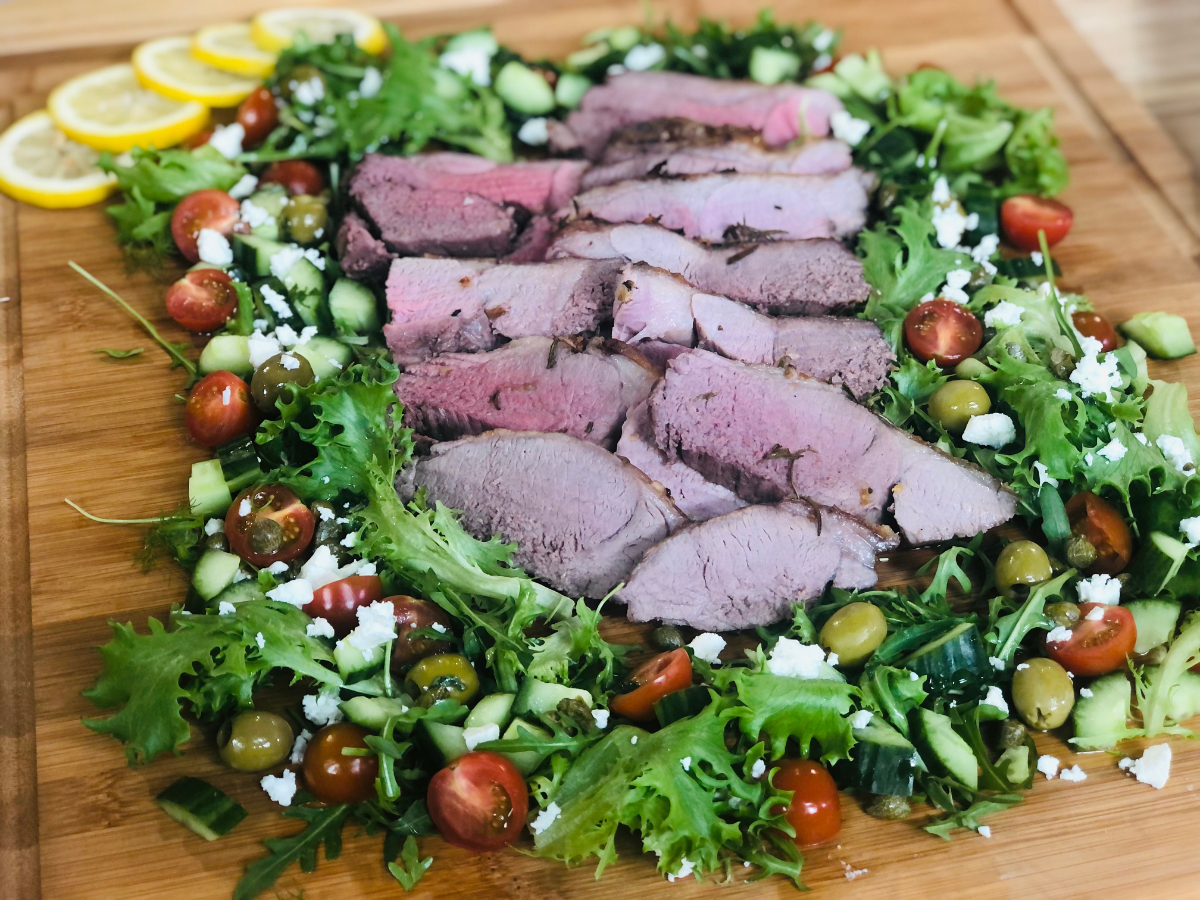 Serves: 6-8
Author: Chef Catherine Fulvio
Ingredients:
For the lamb,
• 3 ½ lb. leg of lamb, deboned and butterflied
• 5 small sprigs rosemary
For the marinade,
• 2 lemons, juice and zest
• 3 anchovy fillets
• 2 garlic cloves, crushed
• 2 tbsp roughly chopped mint
• 3 fl. oz olive oil
• 3 tbsp apple cider vinegar
For the salad,
• 3 cups lettuce leaves, torn
• ¾ cup cherry tomatoes, sliced
• ½ cucumber, diced
• 2 tbsp black olives
• 2 tsp roughly chopped mint leaves
• 1 ¾ oz feta cheese, crumbled
For the mint dressing,
• 8 mint leaves, shredded
• 1 tsp honey
• 3 tbsp white wine vinegar
• 5 tbsp olive oil
• salt and freshly ground black pepper
• 2 tbsp capers, to garnish
• 3 to 4 tbsp crumbled feta cheese, garnish
• thin lemon wedges, to garnish (optional),
• mint leaves, to garnish
Instructions:
1. To prepare the lamb, trim off all the excess fat and skin if your grocery store or butcher hasn't done it for you. Make 5 incisions into the flesh of the lamb with a sharp knife. Insert the rosemary sprigs.
2. Combine all the ingredients for the marinade and place the butterflied leg of lamb into the marinade. Cover with plastic wrap and leave for at least 6 hours or even overnight in the fridge.
3. When you are ready to cook, preheat the oven to 400°F. Take the lamb out the fridge and leave it at room temperature for 20 minutes – no longer.
4. Preheat a chargrilled pan over medium to high heat. Remove from the marinade, slightly pat dry and sear the lamb on both sides. Transfer the lamb to a roasting pan, add the slices of lemon.
5. Roast for 15 minutes and then reduce the temperature to 350°F and cook for a further 18 to 20 minutes If you like your lamb medium. Add on another 10 to 12 minutes longer if you like it well done.
6. Allow to rest, covered with foil for at least 20 minutes.
7. To prepare the salad, place all the ingredients into a large bowl.
8. To prepare the dressing, place all the ingredients into a bowl and whisk very well. Check the seasoning, adding salt, pepper and honey if needed.
9. Spoon some dressing over the salad.
10. To serve, transfer the salad to a large serving platter, slice the butterflied leg of lamb and place it on top of the salad.
11. Sprinkle over the capers and feta.  Garnish with lemon wedges if you are using them and mint leaves, serve immediately.