RECIPE
Hearty Store Cupboard Bean Soup
Catherine's Farmhouse Kitchen: Quarantine Edition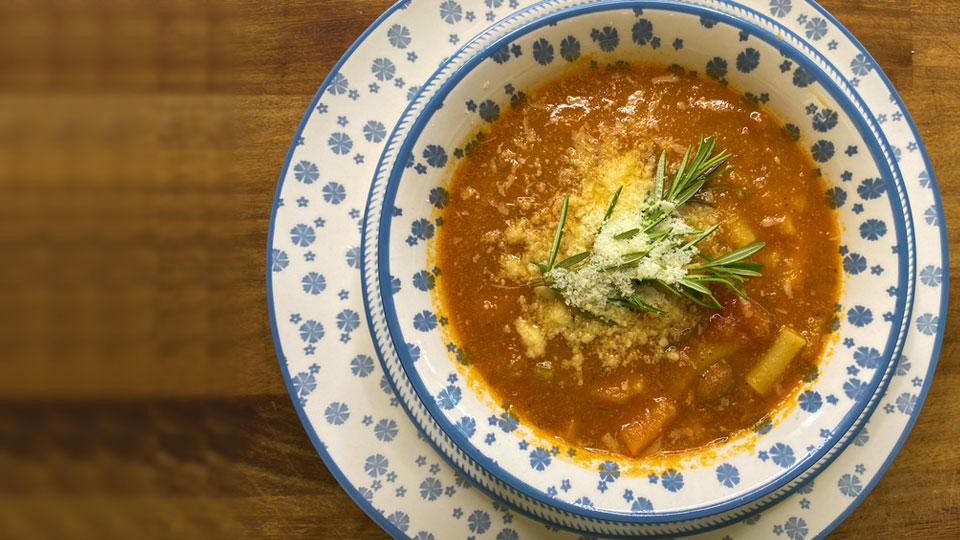 Hearty Store Cupboard Bean Soup
Ingredients
4

tbsp

olive oil

1

onion

finely chopped

2

carrots

finely diced

2

sticks celery

finely diced

1

cup

smoked streaky bacon

diced

1 ¼

cup

cooked borlotti beans

(equals ¾ cups dried beans soaked overnight, drained and simmered until tender)

1 ¾

cup

cups canned tomatoes

(chopped with juice)

1

tbsp

tomato puree

2

sprigs

rosemary

6

cups

chicken stock (more if necessary)

½

cup

macaroni or soup pasta (dried weight)

3

tbsp

grated parmesan
Instructions
Heat the oil up in a heavy based saucepan.

Add in the onion, smoked bacon, celery and carrots and leave to cook for 10 minutes over a moderate heat. Add in the rosemary, tomato puree, beans, tomatoes and stock. Bring the mixture to the boil.

Reduce the heat and leave to simmer for 10 minutes until the beans are heated through. Remove and discard the rosemary stalks.

Using a ladle, add one third of the mixture into a blender and blend into a puree. Then return the pureed soup to the saucepan.

Bring the mixture back up to the boil and add in the pasta. Allow to cook for 10 minutes uncovered (or until the pasta is fully cooked through). Remove the pan from the heat.

Check for seasoning adding salt and freshly ground black pepper. Ladle into soup bowls, sprinkle over the grated parmesan and serve immediately.