RECIPE
Honey Pork Salad with Glazed Apples
Catherine's Farmhouse Kitchen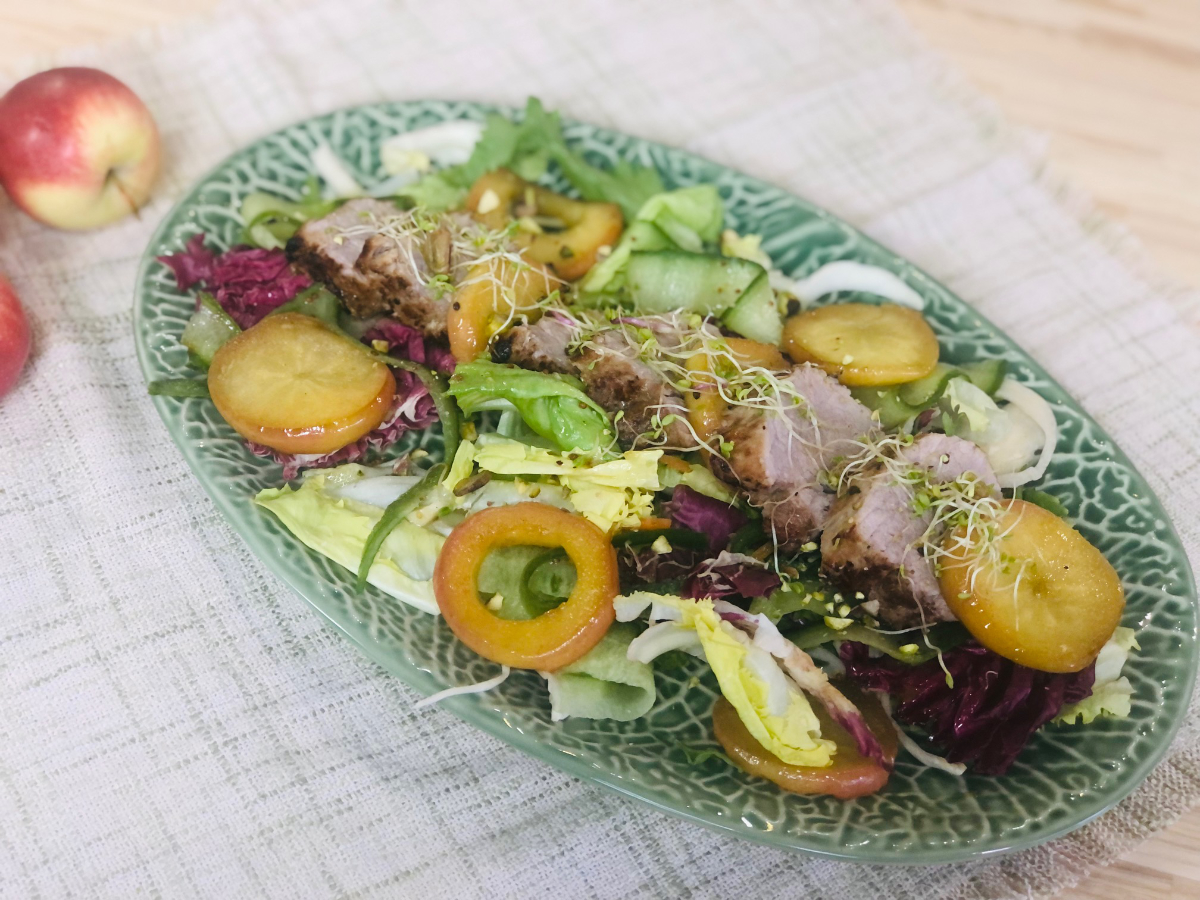 Serves: 4
Author: Chef Catherine Fulvio
Ingredients:
For the marinade,
• 2 tbsp olive oil
• 2 garlic cloves, finely chopped
• 1 tsp Dijon mustard
• 2 tbsp honey + 1 tbsp
• 2 tsp chopped thyme
• 1 lb. pork tenderloin
For the dressing,
• 1 tbsp honey
• 1 garlic clove, finely chopped
• 2 tsp wholegrain mustard
• 5 tbsp olive oil
• 2 tbsp cider vinegar
• salt and Pepper, to taste
For the apple slices,
• 2 to 3 apples, thickly sliced with skin left on
• 2 tbsp honey
• 1 tbsp butter
For the salad,
• 4 cups mixed salad leaves
• 1 cucumber, ribboned
• 1 ¼ oz micro sprouts
• flat leaf parsley, to garnish
Instructions:
1. For the marinade, mix the oil, garlic, Dijon mustard, 2 tbsp honey and thyme in a shallow rectangular bowl.
2. Place the pork tenderloin in the bowl and brush to cover with marinade. Leave in the fridge for 2 hours.
3. Preheat the oven to 350°F.
4. Heat a frying pan with olive oil and place the tenderloin in. Brown on all sides. Remove, season with salt and freshly ground black pepper and place on a roasting tray and transfer into the preheated oven.
5. Roast for 30 to 35 minutes. Brush 1 tbsp honey on the tenderloin while roasting.
6. To prepare the dressing, combine all the ingredients and whisk together well. Set aside.
7. To assemble the salad, place the lettuce leaves onto a platter. Arrange the cucumber ribbons on top and sprinkle the micro sprouts over.
8. To prepare the apple slices, heat a frying pan with butter and honey and place the apple slices into the pan, leave to caramelize lightly and transfer to the salad platter.
9. Leave the tenderloin to rest for 6 minutes. Cut the tenderloin in half lengthways and then cut medium thick slices and arrange them on the salad. Spoon over some dressing and serve the rest separately, garnishing with parsley.