RECIPE
Involtini Di Manzo
Katie Parla, Katie Parla's Rome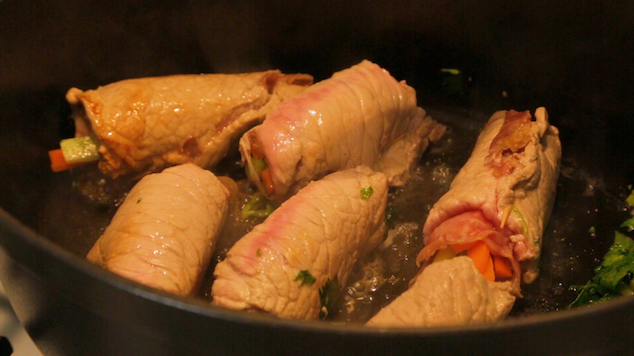 Involtini Di Manzo
Beef Rolls
Cook once, eat twice. It's an idea any busy home cook can get behind, and it's what we love about involtini di manzo. As these meat rolls cook, their juices mingle with the tomato sauce and a few hearty bits get left behind, too. So hold on to that leftover sauce and use it to dress pasta a day or two later. We like it with rigatoni, spaghetti, or Gnocchi di Patate.
Ingredients
1

lb

rump roast

cut into six equal slices

Sea salt

6

slices

prosciutto

thinly sliced

1

carrot

julienned

1

celery stalk

julienned

2

tbsp

extra-virgin olive oil

1

clove

garlic

smashed

1

can (28 oz)

whole peeled tomatoes

1

cup

dry white wine

Freshly ground black pepper
Instructions
Lay the slices of beef flat on your work surface and season with salt on both sides.

Place 1 piece prosciutto over each slice of meat, followed by 3 or 4 sticks each of carrot and celery at one short end of the meat. Roll the meat around the vegetables, forming a medium-tight involtino. Use kitchen twine or a couple of toothpicks inserted flush with the meat to keep the roll closed.

Heat the olive oil in a small skillet over medium heat. When the oil begins to shimmer, add the involtini and brown them on all sides, about 5 minutes total. Remove the rolls from the pan and set aside.

Add the garlic to the same pan and cook, stirring occasionally, until it just turns golden, about 5 minutes. Stir in the tomatoes. Add the wine and cook until the alcohol aroma dissipates, about a minute.

When the sauce begins to simmer, return the involtini to the pan. The meat should be mostly covered by the tomato sauce.

Cook, covered, until the meat is fork-tender, about 1/2 hour, checking occasionally to be sure the meat is at least two-thirds submerged and adding water if necessary.

Season with salt and pepper.

Serve immediately or allow the dish to rest in the refrigerator for up to 3 days to allow the flavors to develop.