RECIPE
Irish Apricot Whiskey Scones
Baking At Ballyknocken with Catherine Fulvio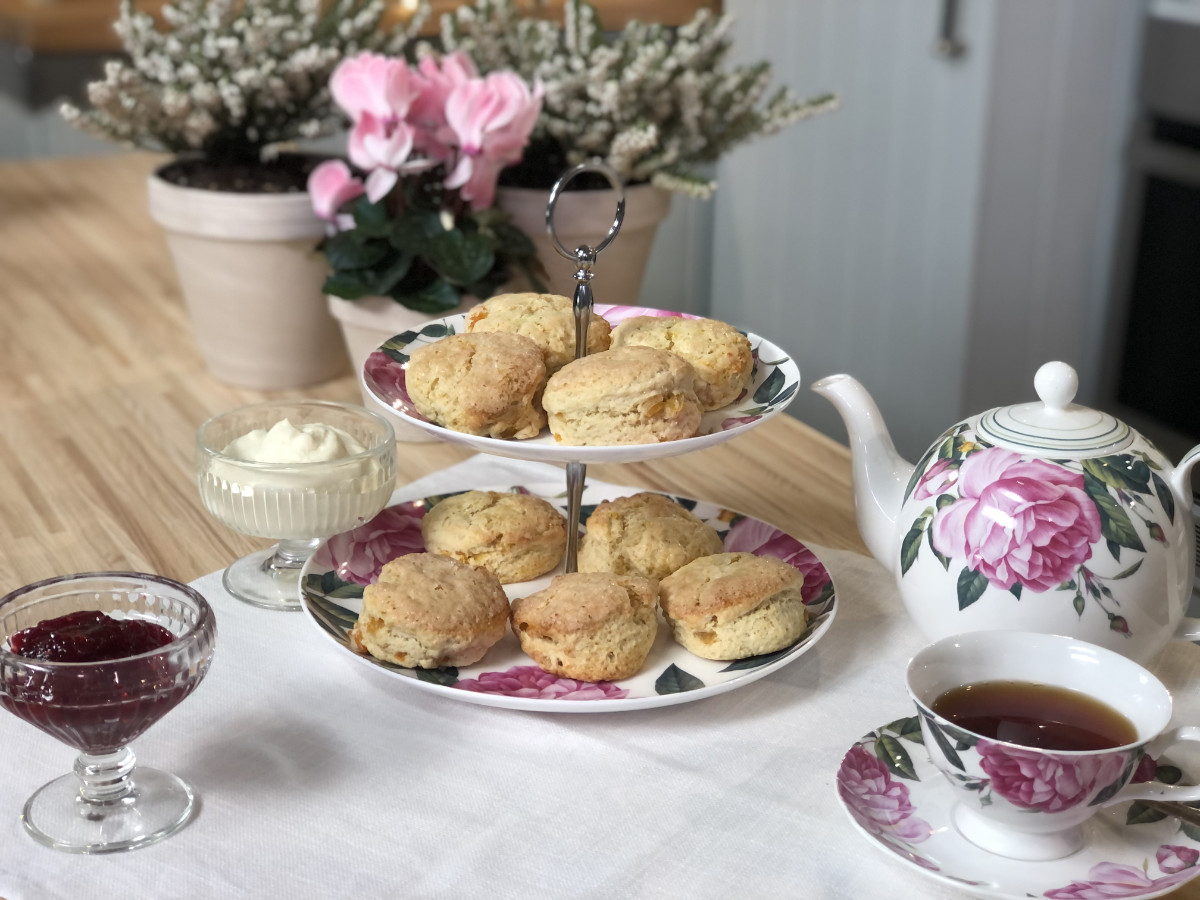 Servings: 12 to 15
Author: Chef Catherine Fulvio
Chef's Note: You'll need a small scone cutter.
Ingredients:
• 1 ¼ cups self-rising flour
• ¾ stick diced butter
• ¼ tsp salt
• 1 tsp baking powder
• 4 tbsp baker's sugar
• 4 tbsp dried chopped apricots soaked in about 2tbsp whiskey
• ½ cup milk
• extra plain flour, for dusting
• egg wash
• 3 tbsp baker's, to dust top
• zest of 1 lemon
• raspberry Jam, to serve
• cream, to serve
Instructions:
1. Preheat the oven to 400°F. Dust a non-stick baking tray with flour or line with parchment.
2. To make the scones, combine the self-rising flour, add the diced butter, and rub it in to resemble breadcrumbs.
3. Stir in the salt, baking powder and sugar.
4. Drain the soaking apricots very well and add them to the scone mix.
5. Pour in just enough liquid to form medium-firm scone dough.
6. Dust a clean surface with some flour, place the dough on the surface and very lightly pat it out to a thickness of 1 ½ inches.
7. Using a small size scone cutter, dipped in flour, cut out the scone shapes and place on a baking tray.
8. Combine the lemon and 2 tbsp superfine sugar together in a bowl to make lemon sugar.
9. Pour the egg wash into a plate.
10. Dip each scone into the egg wash and then into the lemon sugar.
11. Place them on a baking tray.
12. Bake for 10 to 12 minutes depending on the size until golden and well risen.
13. Transfer to a cooling rack. Serve with raspberry jam and cream.