RECIPE
Meatballs in Tomato Sauce with Saffron Rice and Minty Spicy Yogurt
Recipe.TV Test Kitchen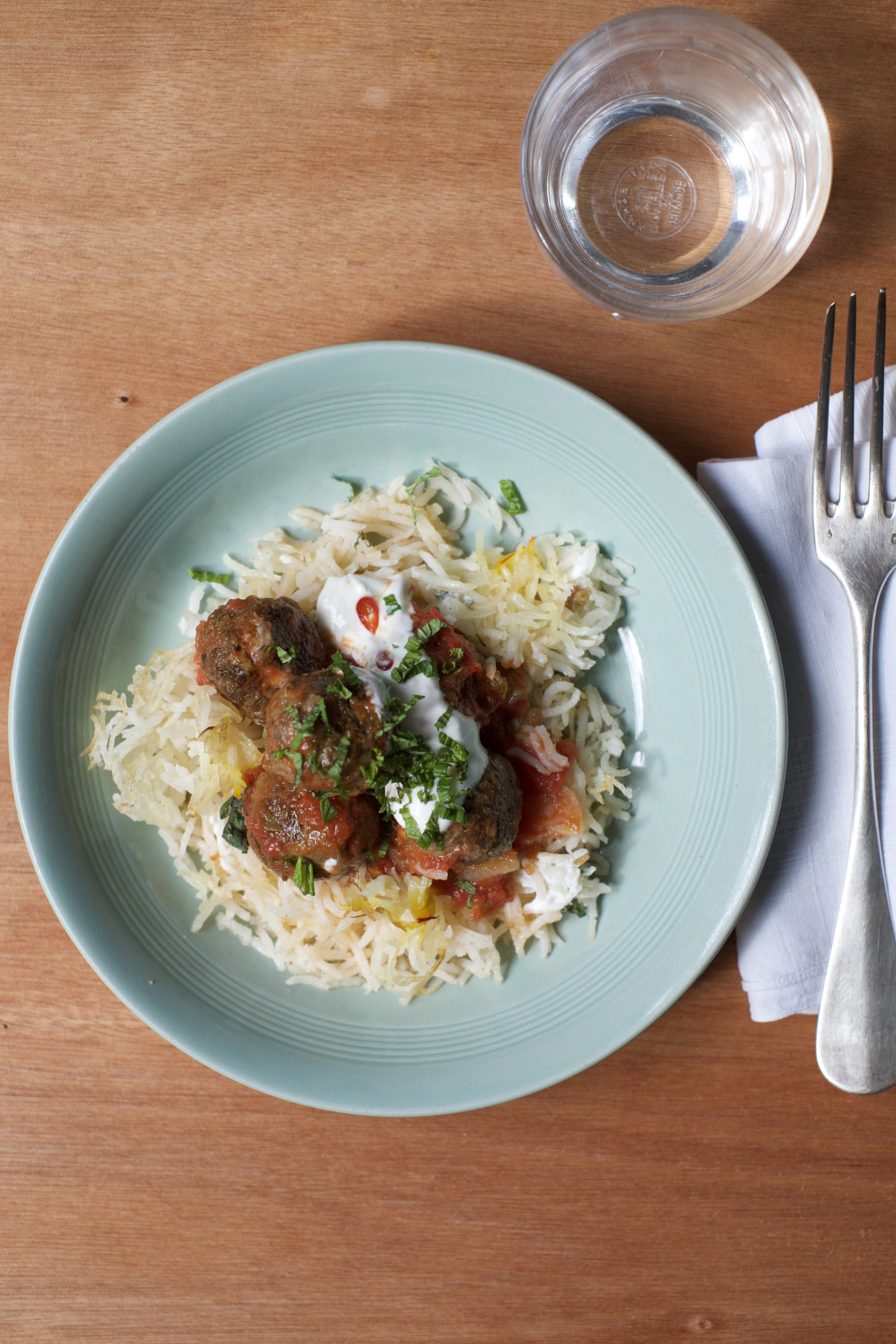 Serves: 3-4
Author: Chef Keda Black
Chef's Note:
In France, we love "boulettes," a type of dumpling which is often made in a Mediterranean-North African style. It's not rare to have a grandmother, an uncle, a nanny, or a friend of Mediterranean origin who had their perfect secret recipe. Use spices such as coriander, cumin, paprika, ginger, or really, adapt this to whatever mix of spices you have and enjoy. The rice here is cooked in a pilaf method, in the oven, which keeps it nicely firm and flavored with saffron. You could add some dried chopped apricots or raisins if you like a sweet touch.
Ingredients:
• 1 lb. ground beef
• 1 cup fine breadcrumbs
• 2 tsp mixed spices (ground coriander, smoked chili powder, ground cumin, paprika, etc.)
• 1 bunch fresh herbs (mint, thyme, parsley, etc.)
• 1 cup long grain rice
• pinch of saffron
• 1 cup good quality canned tomatoes
• 4 small onions or shallots
• 3-4 cloves garlic
• ½ inch ginger grated
• 1 egg
• ½ cup olive oil
• ½ cup yogurt
• ½ lemon
• salt, to taste
• 1 preserved chili (optional)
• ¼ stick butter (optional)
Instructions:
1. Blend together most of the herbs (except the mint) with the spices (except the saffron), 1 onion (or shallot), 1 clove garlic and the grated ginger.
2. Mix thoroughly with the meat, the egg, some salt, and the breadcrumbs. Leave this mixture to rest in the fridge covered for the flavors to develop for about 1 hour if you can.
3. Make a quick tomato sauce by cooking 1 sliced onion (or shallot) and some garlic in a tablespoon of oil until soft, with a bit of salt, then adding the blended tomatoes. Add a sprig of thyme or two and cook for about 15 minutes on a medium to low heat. Set aside.
4. Preheat the oven to 350°F.
5. For the rice, cook a sliced onion in a tablespoon of oil for about 5 minutes on the stove in an oven pan. Add some salt, then add the rice and mix until coated with oil. Add 2 cups of boiling water along with the pinch of saffron. Stir, pop in the oven, and cover tightly with foil and cook for 25 minutes. Remove the foil, add little dots of butter on the top if you like and cook, uncovered, for 10-15 more minutes.
6. While the rice is cooking, prepare the meatballs by taking tablespoonfuls of the meat mixture and shaping them into small balls.
7. Cook in olive oil until browned and cooked through, turning and rolling them in the pan. You can also cook them in the oven for about 25 minutes. Place them into the tomato sauce once finished.
8. Mix the yogurt with a bit of lemon, a grated garlic clove, salt, and chopped herbs.
9. Serve the tomato sauce and meatballs over the rice with the yogurt mixture drizzled over, and some chopped mint and slices of preserved chili if you like the heat.