RECIPE
Onion Tart
Recipe.TV Test Kitchen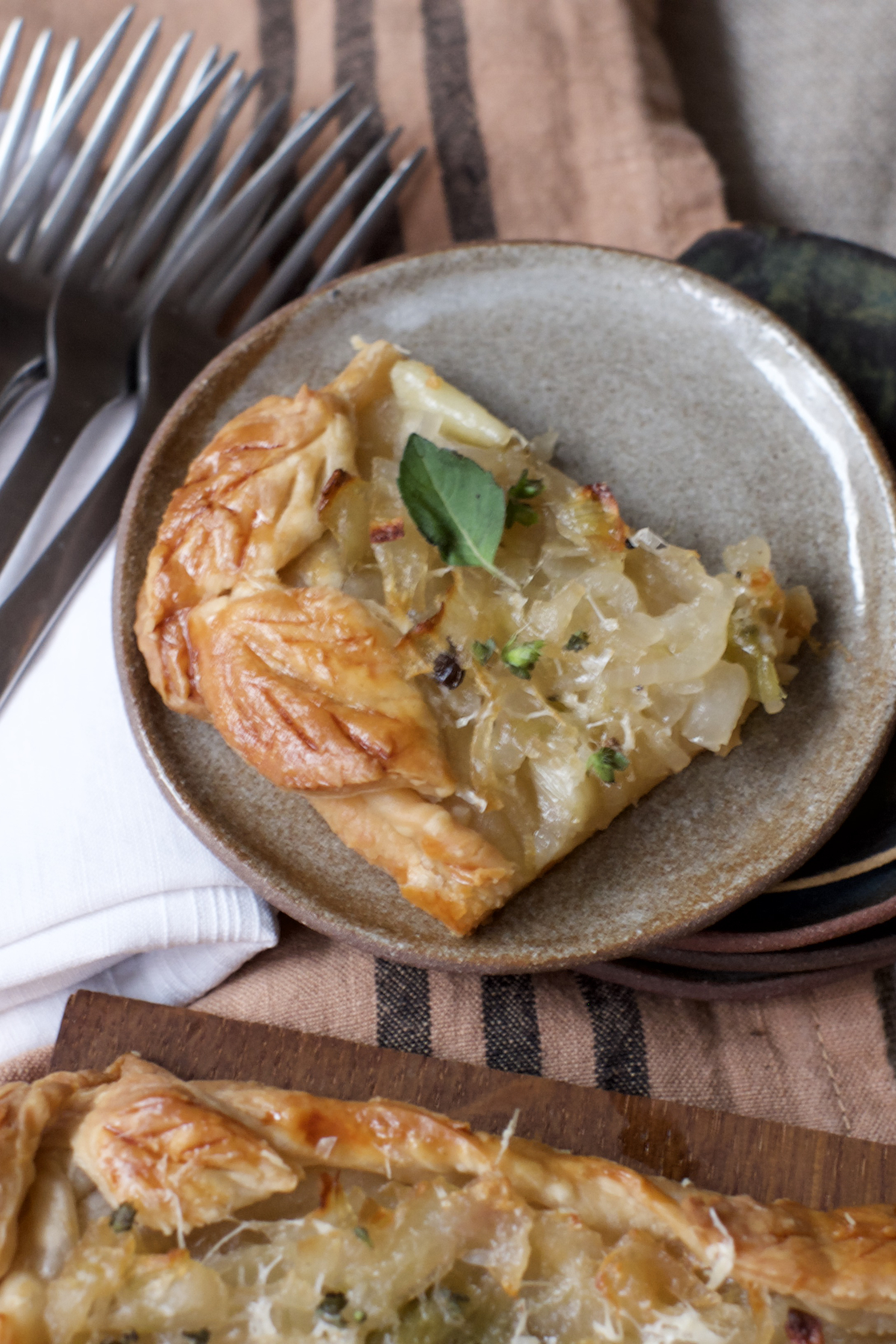 Serves: 4
Author: Chef Keda Black
Chef's Note:
In Provence, France, the onion tart, topped with olive and anchovies arranged in a crisscross pattern, is known as a "pissaladière."
Here, I have made a version that is a bit different, where the onions are combined with a lovely sharp sheep's cheese all laid on a delicious puff pastry and flavored with oregano. It may not be a "real" pissaladière, but it's a crowd-pleaser, cut in squares as a pre-dinner snack or as a light lunch with a green salad. Of course, lovers of a more pungent taste will leave out the cheese and use the classic anchovies instead.
You can use any kind of onion you have. In season, green onions are lovely because they give a delicate taste. You can use the green parts too! Otherwise, normal yellow, white, pink, or red onions all work well. You may have to adjust their cooking time a bit (they cook a bit longer, while the fresh green onions are good when they retain some of their bite). I used puff pastry here, but a flaky, short crust pastry would also work. Or even, a leavened pizza dough!
Ingredients:
• 10 oz (300 g) puff pastry
• about 10 small onions
• 2-3 tbsp olive oil
• a few sprigs oregano
• 3-4 oz (100-120 g) melting cheese hard (sheep's cheese, parmesan, or pecorino)
• 3 tbsp dry white wine (optional)
• good, whole black pepper
• salt
Instructions:
1. Peel and slice the onions. Cook them on a low to medium heat in the oil, with a good pinch of salt, until softened, then add the wine and increase the heat a bit so that it evaporates, and the onions slightly stick at the bottom of the pan. Use a heavy-based pan if you can for this. Keep turning with a spoon so they don't brown too much. 10-15 minutes should be enough for green onions and up to 20-25 minutes for other, dryer kinds. The wine gives a nice tang, but you can totally leave it out if you don't want to use alcohol or just don't want to open a bottle for this.
2. Preheat the oven to 350°F.
3. Roll out the pastry in whatever shape you fancy. Trim the edges with a knife to make them neat. Roll out the trimmings and cut strips out of them.
4. Arrange the strips on the sides to make a little border. Spread the onions on the pastry base. Grate the cheese on top and sprinkle with some of the chopped oregano. If you are using anchovies and olives, arrange them in a pretty pattern over the onions before baking.
5. Brush the sides with beaten egg (if you don't have an egg, leave out this step, it will be just as good). Bake for 35 minutes or until golden.
6. Serve warm with a nice green salad sprinkling on more oregano and crushed black pepper if you'd like. I use purslane here, but any salad is good.