RECIPE
Orange Radicchio Cupcakes with White Chocolate Frosting
A Taste of Ireland: Ballyknocken Cookery School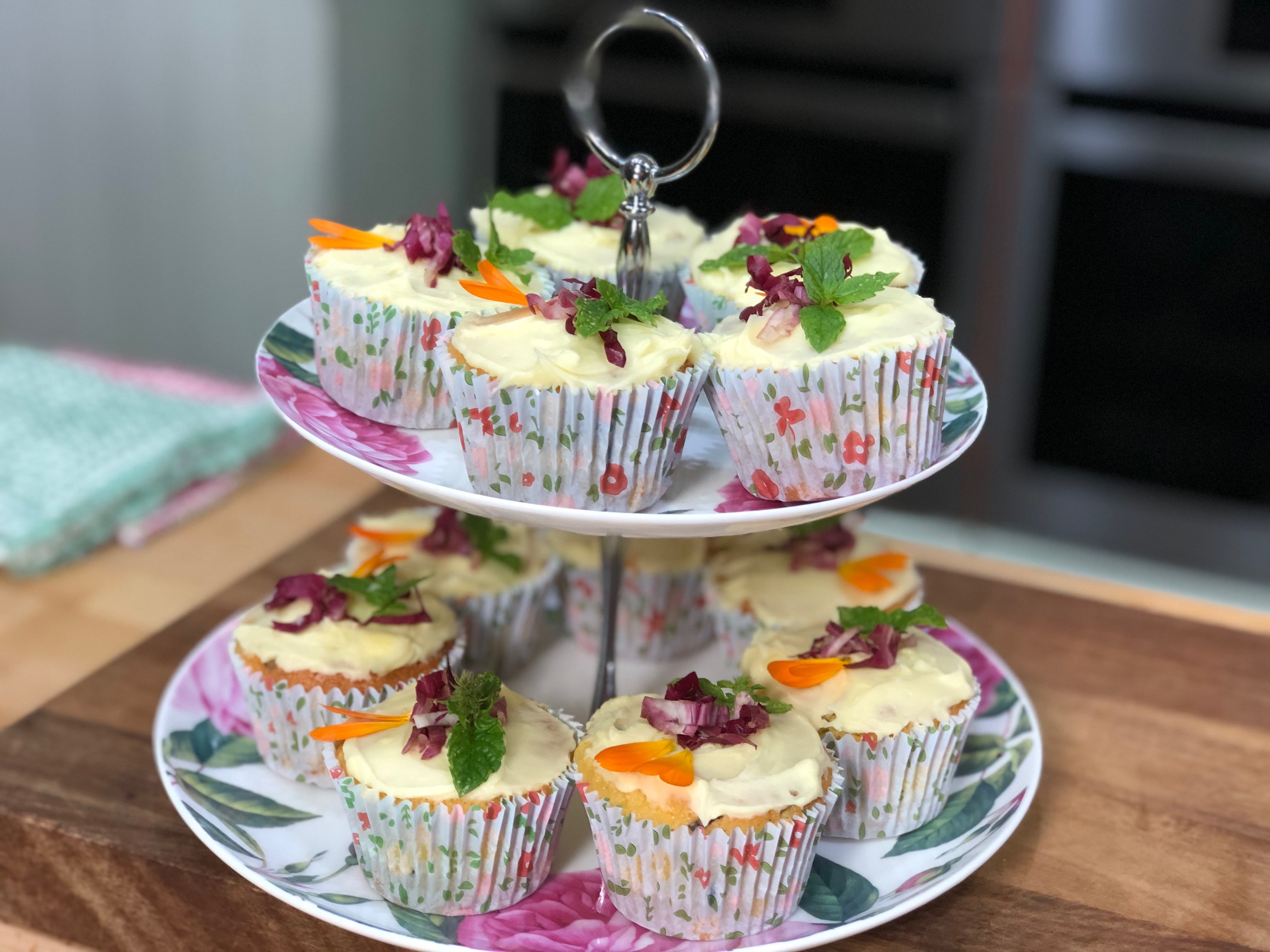 Servings: 12
Author: Chef Catherine Fulvio
For the cupcakes:
Ingredients:
• 1 ½ cups radicchio leaves, trimmed
• 1 stick butter, softened (plus extra for greasing)
• ¾ cup caster sugar
• 4 eggs
• zest and juice of 1 orange
• pinch of nutmeg
• 1 ½ cups all-purpose flour, sifted
• 4 tbsp semolina flour, plus extra for dusting
• 2 tsp baking powder
• 1 small carrot, peeled and grated
Instructions:
1. Preheat the oven to 350°F. Line a muffin tray with cupcake cases.
2. Place the radicchio leaves in a steamer for 2 minutes to wilt. Using tongs, transfer them into cold water and then place them on some paper towels. Pat dry and shred finely.
3. Cream the sugar and butter together until pale and light. Add the eggs, one at a time, then stir in the orange zest and juice and a pinch of nutmeg. Mix well. Fold in the flours and baking powder, then carefully fold in the chopped radicchio and grated carrot.
4. Spoon the batter into the cupcake cases and bake for about 16 to 18 minutes, until golden and test by inserting a skewer into the center and if it comes out clean, the cupcakes are done. Transfer them to a cooling rack and allow to cool completely before decorating.
For the frosting/assembly:
Ingredients:
• ½ cup white chocolate, chopped
• 1 cup powdered sugar
• ½ stick butter, softened
• orange zest, to decorate
• edible flowers, to decorate
• radicchio, finely shredded, to decorate
Instructions:
1. Melt the chocolate in a bowl set over a saucepan of simmering water. Remove from the heat and let the chocolate cool slightly before gradually whisking in the icing sugar and butter. Whisk until fluffy.
2. Spoon into a piping bag with a star nozzle fitted and pipe over the top of the cupcakes or spread the frosting over the top with a palette knife.
3. Arrange some shredded radicchio leaves, orange zest, and edible flowers on top to decorate.