RECIPE
Pan-Roasted Honey & Miso Glazed Quail with Sea Purslane Salad
Paris Bistro Cooking with Edward-Delling Williams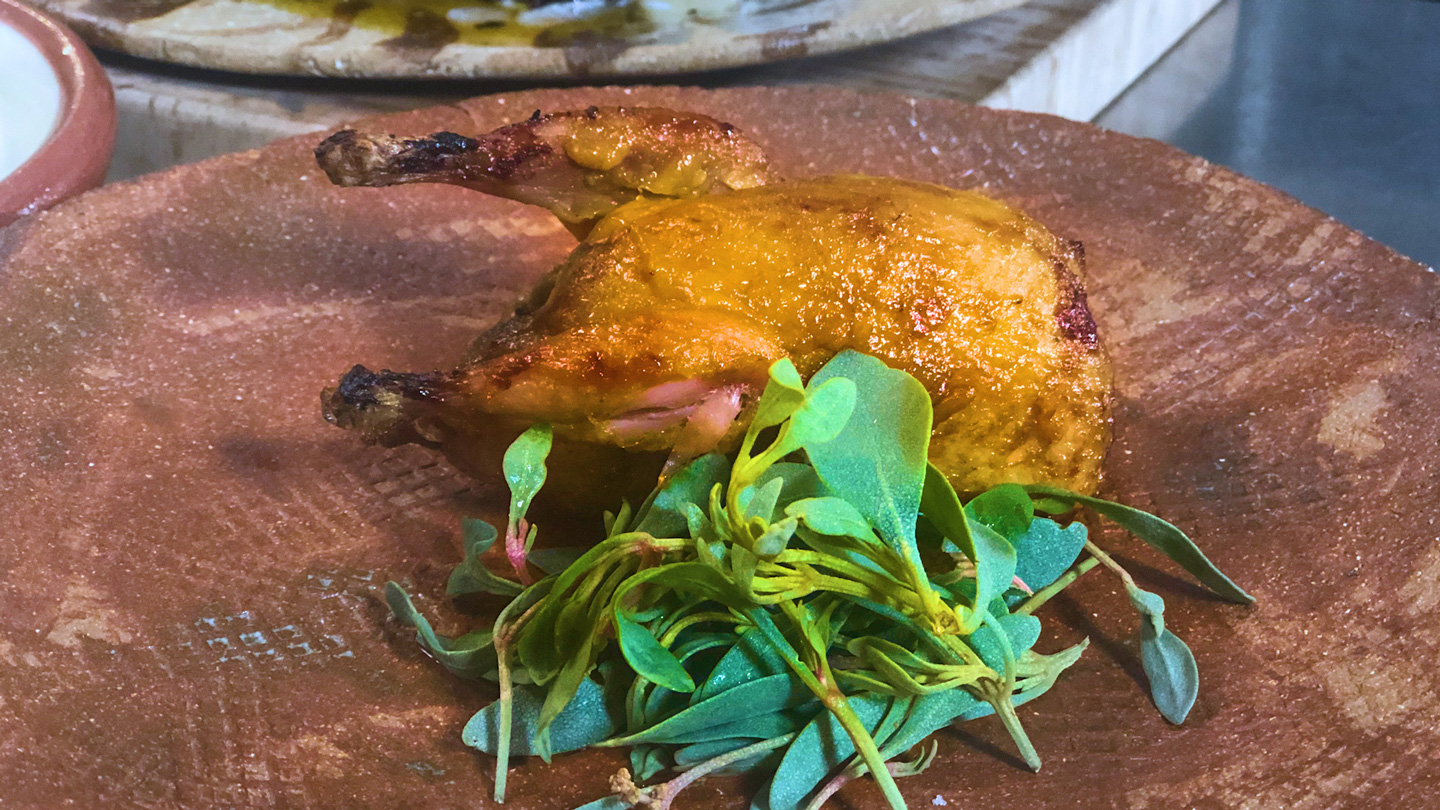 Pan-Roasted Honey & Miso Glazed Quail with Sea Purslane Salad
Ingredients
1

whole plucked quail (or a small piece of chicken)

1

qt

water

¼

cup

salt

4-5

tbsp

olive oil

2

tbsp

butter

3

tbsp

miso paste

2

tbsp

lavender honey

¼

cup

sea purslane

half a lemon
Instructions
Brine the quail by filling a container with enough cold water to fully submerge it, add in about 1/4 cup of salt, and place in the fridge for 12 hours.

Preheat the oven to 350°F.

Remove the quail from the brine and pat dry.

Add 4-5 tablespoons of olive oil to a small pan over medium-high heat and roast each side of the quail until golden brown (3-5 minutes). If you pinch the leg of the quail and the flesh comes away easily from the bone, it's done.

Add the butter to the pan and baste the quail continuously until incorporated.

Place the quail into the oven for 10-15 minutes, removing just before it's finished cooking.

Prepare the miso glaze by mixing the miso with the honey and use a paintbrush to paint a thin, even layer of the glaze across the quail, saving any leftover to use for the "Aubergine Burrata with Thyme and Honey" recipe shown later in this episode.

Return the quail to the oven to cook for another 5-10 minutes, until the glaze has a deep golden color.

Plate the quail with the sea purslane alongside of it, squeezing the juice from half a lemon across the dish, and serve.