RECIPE
Pear and Plum Hazelnut Crumble Cake
A Taste of Ireland: Ballyknocken Cookery School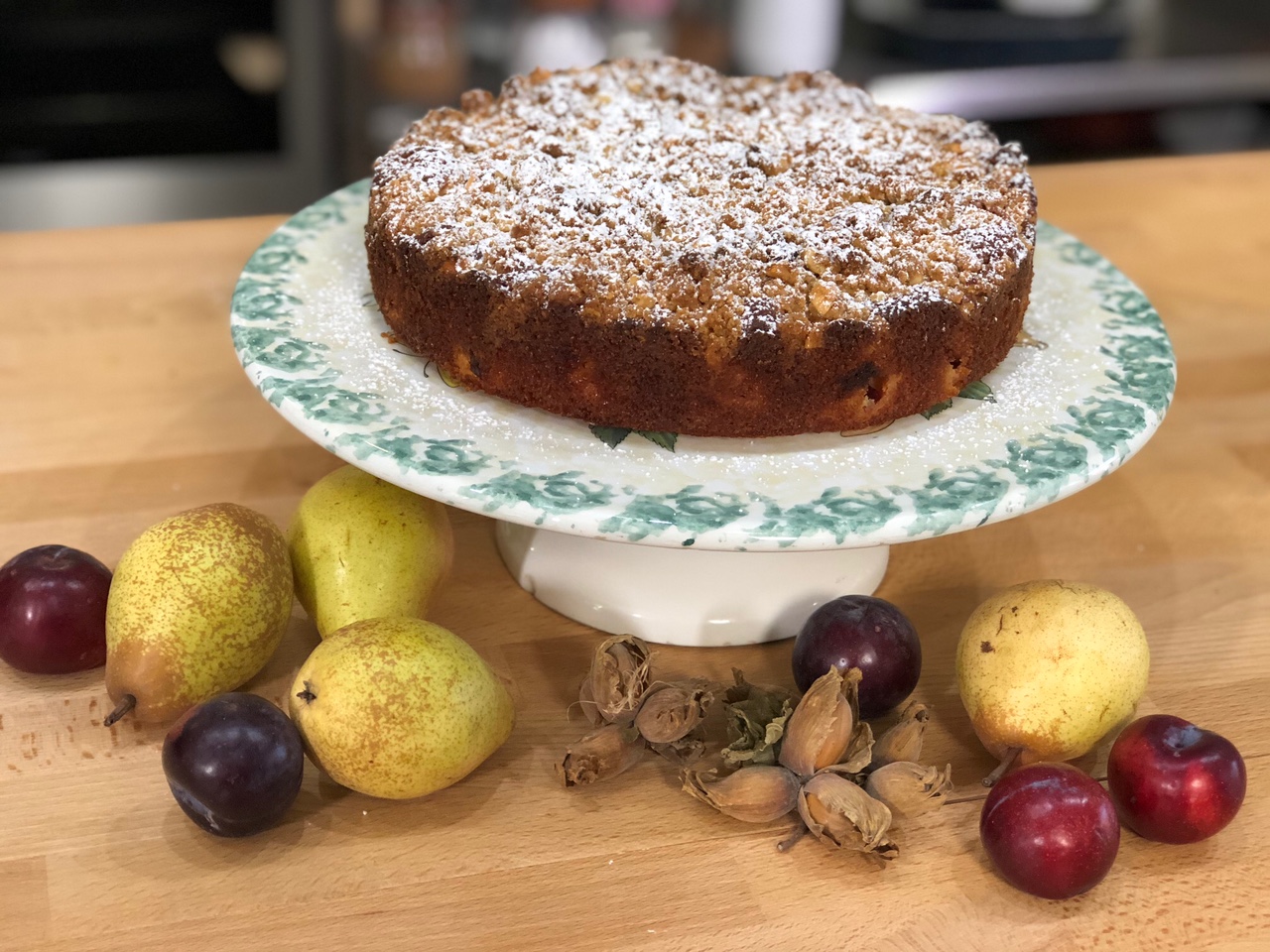 Pear and Plum Hazelnut Crumble Cake
Ingredients
For the hazelnut topping
2 ½

oz

butter

2 ½

oz

brown sugar 

1

tsp

cinnamon

½

orange, zest only

3 ¼

oz

flour

2

oz

hazelnuts

roughly chopped
For the cake
5 ½

oz

softened butter

6 ½

oz

caster sugar

4

large

eggs

8 ¾

oz

plain flour

2

tsp

baking powder

4 ¼

oz

natural yogurt

½

orange, zest only

2

ripe pears

peeled and thinly sliced wedges

5

plums

diced

1

tbsp

honey, for drizzling over the top

Mascarpone, for serving
Instructions
Preheat the oven to 350°F.  Butter and line an 8½ inch round tin with baking parchment. 

To make the topping, melt the butter in a saucepan and mix in the brown sugar, cinnamon, orange zest, flour and hazelnuts and set aside to cool.  

To make the cake, using a mixer, cream together the butter and sugar until fluffy.  Gradually add the eggs, one at a time.  Fold in the flour and baking powder.  Stir in the yogurt and orange zest. Spoon half of the mixture into the tin and spread evenly. 

Arrange half of the pear wedges and some diced plums over the top. 

Spoon over the other half of the cake mixture and spread evenly.

Arrange the rest of the pear wedges and the diced plums on top and sprinkle of the hazelnut topping. 

Bake for about 40 minutes or until the cake is cooked when a skewer is inserted in the center and it comes out clear. 

While still warm, drizzle over the honey.  Allow the cake to cool and slide out the tin.