RECIPE
Picked Mussels with Sea Purslane & Parsley
French Country Cooking with Edward Delling-Williams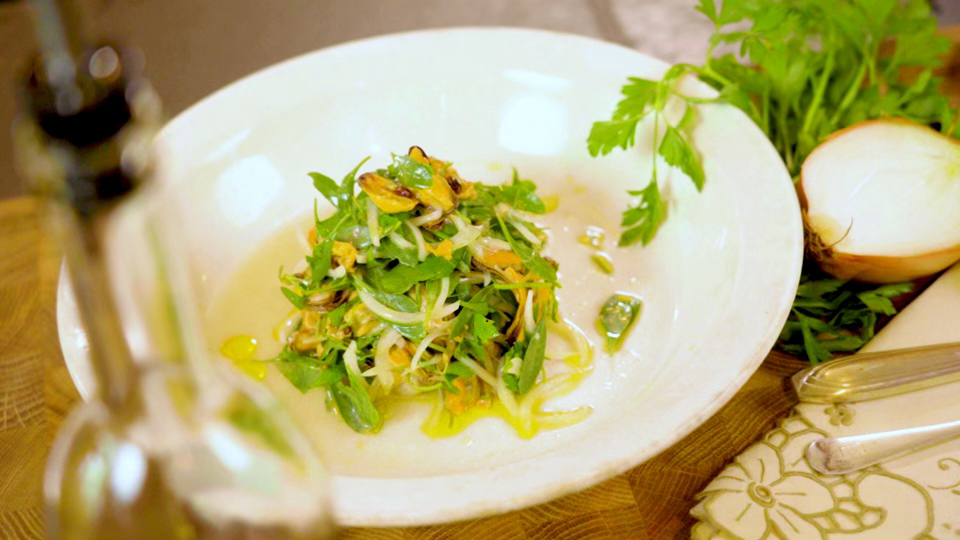 Servings: 2
Author: Chef Edward Delling-Williams
Chef's Note: This is a favorite in our house! Quick and lovely and normally we'll just use the mussels that were left over from dinner the night before. We just pick them all out at the end of the meal and then pop them in the fridge for the next day.
Ingredients:
1 ¼ lb mussels
1 lb sea purslane
1/2 white onion
1 tbsp Italian parsley
½ lemon, juice
1 tbsp olive oil
salt
¼ cup dry white wine
Instructions:
Rinse the mussels, pull off any beards, and discard any with broken shells or ones that don't shut when tapped.
Place a large shallow skillet over medium-high heat and add in the wine and mussels. Cover and let steam for about 7 minutes, stirring occasionally, steaming until the mussels have opened wide. Transfer the mussels to a bowl, discarding any that haven't opened.
Finely slice the white onion and rinse in ice-cold water to take some of the bite out of it. Place in the serving bowl with the mussels.
Roughly chop the parsley and put it into the bowl along with the sea purslane, a pinch of salt, olive oil, and lemon juice.
Mix and serve on a plate immediately.