RECIPE
Sheep's Cheese Cheesecake with Poached Figs
French Country Cooking with Edward Delling-Williams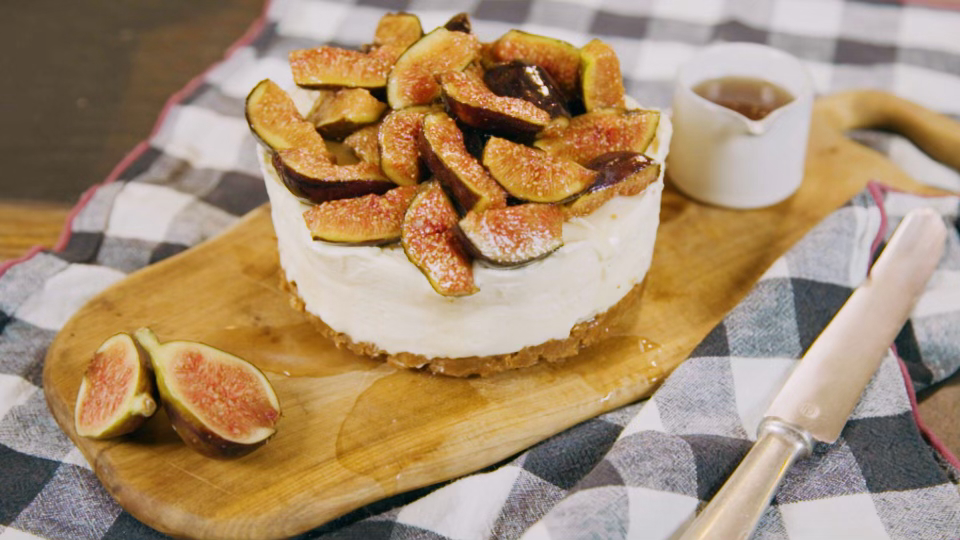 Servings: 8
Author: Chef Edward Delling-Williams
Chef's Note: Start this at least two days before serving!
Ingredients:
4 ¼ cups fresh sheep's milk
2 ½ cups crushed graham crackers (or Speculoos)
1 stick butter melted
10 ½ oz cream cheese
1 cup powdered sugar
1 cup heavy whipping cream
½ lb figs
½ cup water
½ cup sugar
2 lemons, zest and juice
Instructions:
Put your sheep's milk into a large saucepan over medium heat and bring the temperature up to about 185 °F (using an instant-read thermometer to check regularly). Then, stir in the lemon juice and leave it for about an hour to let the milk curdle. Strain off the liquid and season the curds with lemon zest and a pinch of salt. Leave in the fridge overnight.
To make the base, butter and line a 9 inch loose-bottomed tin with baking parchment. Put the crushed graham crackers in a bowl and pour over the melted butter. Mix thoroughly until the crumbs are completely coated. Tip them into the prepared tin and press firmly down into the base to create an even layer. Chill in the fridge for 1 hour to set firmly.
Pour the cream into a bowl and whisk until soft peaks form. Put the cream cheese, sheep's cheese, and powdered sugar in a separate bowl, then beat for 2 mins with a mixer until smooth and starting to thicken (it will get thin and then start to thicken again).
Fold the whipped cream into the cheese mix. You're looking for it to be thickened enough to hold its shape when you tip a spoon of it upside down. If it's not thick enough, continue to whisk.
Spoon onto the base, starting from the edges and working inwards, making sure that there are no air bubbles. Smooth the top of the cheesecake down with the back of a dessert spoon Leave it to set in the fridge overnight.
Bring to a boil the water and sugar. Cut the figs in half, place them in a bowl, and pour over the sugar syrup. Let them sit out overnight and the heat will gently cook the figs.
To serve, cut a slice of the cheesecake and pop the now cool figs on top.