RECIPE
Spinach, Fennel, Goat's Cheese, and Mushroom Quiche
Recipe.TV Test Kitchen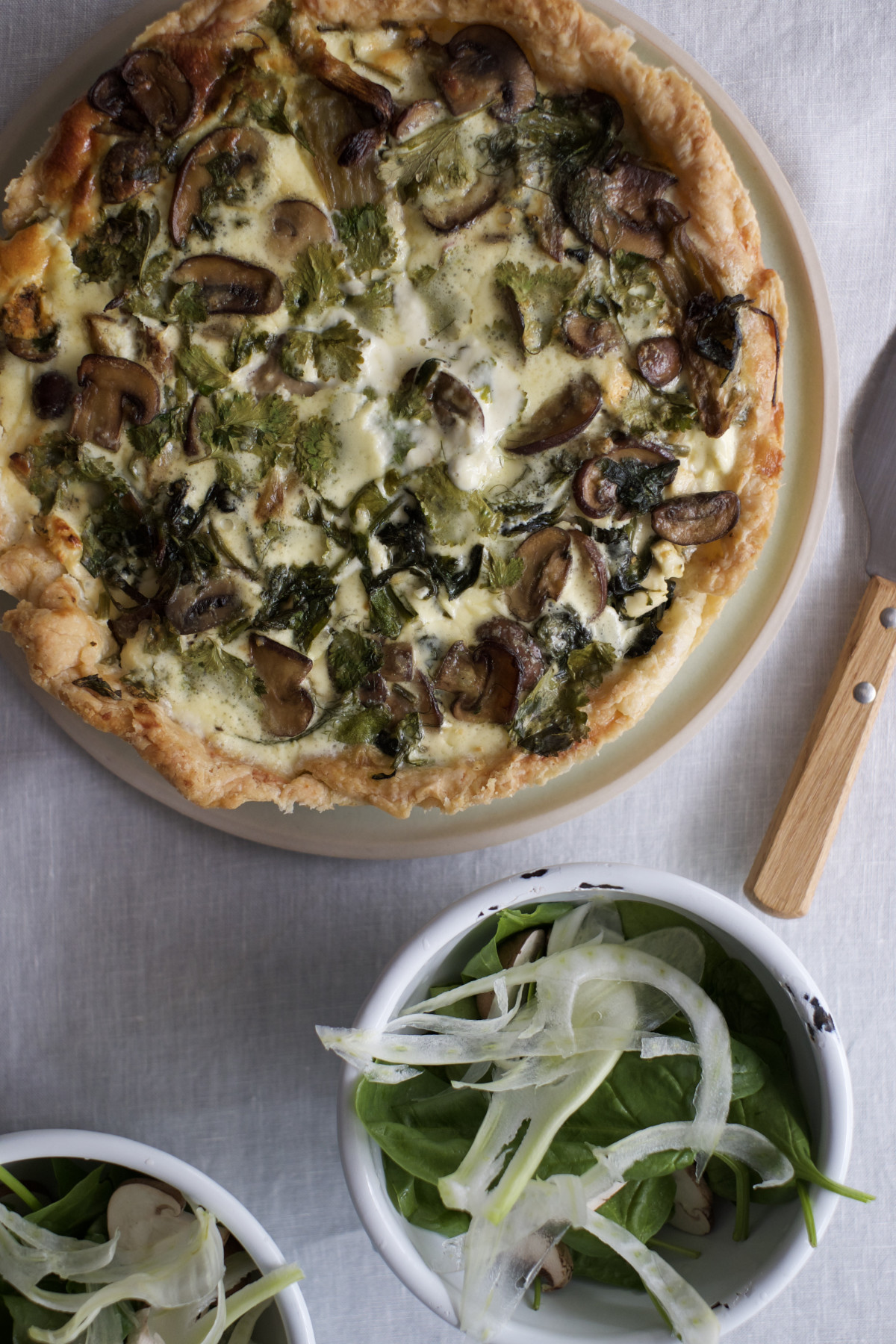 Serves: 4
Author: Chef Keda Black
Chef's Note:
This combination works well but of course, feel free to create your own with whatever vegetables and cheeses are available to you. Here I used plain, chili, and garlic flavored goat's cheeses, but blue cheese would have been great too. I like to use a homemade pastry made by freezing and grating the butter, which gives a certain flakiness to the final result.
You could make a bigger batch of this, roll it out, wrap it up and freeze it so you have it at hand to make a quiche easily. Also, using Greek yogurt in the filling makes it lighter and gives it a nice tangy taste. Here I also added some fresh crème fraîche which has a wonderful flavor.
Ingredients:
• 1 stick butter + a little extra
• 1 ½ cups flour
• salt
• 1 cup Greek yogurt
• ¼ cup crème fraîche
• 2 eggs
• 5 oz fresh goat's cheese
• ¾ lb. fresh spinach
• a few sprigs coriander
• 1 fennel bulb
• ¾ lb. mushrooms
• olive oil or butter
Instructions:
1. To make the pastry, place the butter in the freezer for 30 minutes then grate it (with the coarse side of the grater) into the flour in a large mixing bowl, with a pinch of salt. Add about 5 tbsp of really cold water and mix with a rounded knife to bring the pastry together. Add more water if needed. Finish by shaping the pastry into a rough ball with your hands, without overworking it. Wrap it in plastic wrap and place it in the fridge for an hour.
2. Preheat the oven to 350°F.
3. Wash the vegetables. Cut the mushrooms and fennel into slices. Remove the coarse stems from the spinach leaves. You can keep some of the vegetables aside to make a side salad.
4. Brown the fennel and mushrooms in a saucepan with some olive oil or butter. Add the spinach and cook until wilted.
5. Take the pastry out of the fridge, roll it out and line a buttered 8–10-inch pan with parchment paper, add some baking beans (you can use any dry beans for this, which will be sacrificed to this purpose but which you can use forever) or pie weights and precook in the oven for about 20 minutes with the paper and beans in and 10 minutes without.
6. Whisk together the crème fraîche, yogurt, and eggs. Season with a pinch of salt.
7. Dice the cheese and arrange it with the vegetables and coriander on the precooked quiche base. Pour over the creamy filling and bake for about 30 minutes or until just set.
8. Serve with a side salad.