RECIPE
Sticky Toffee Guinness Pudding
A Taste of Ireland: Ballyknocken Cookery School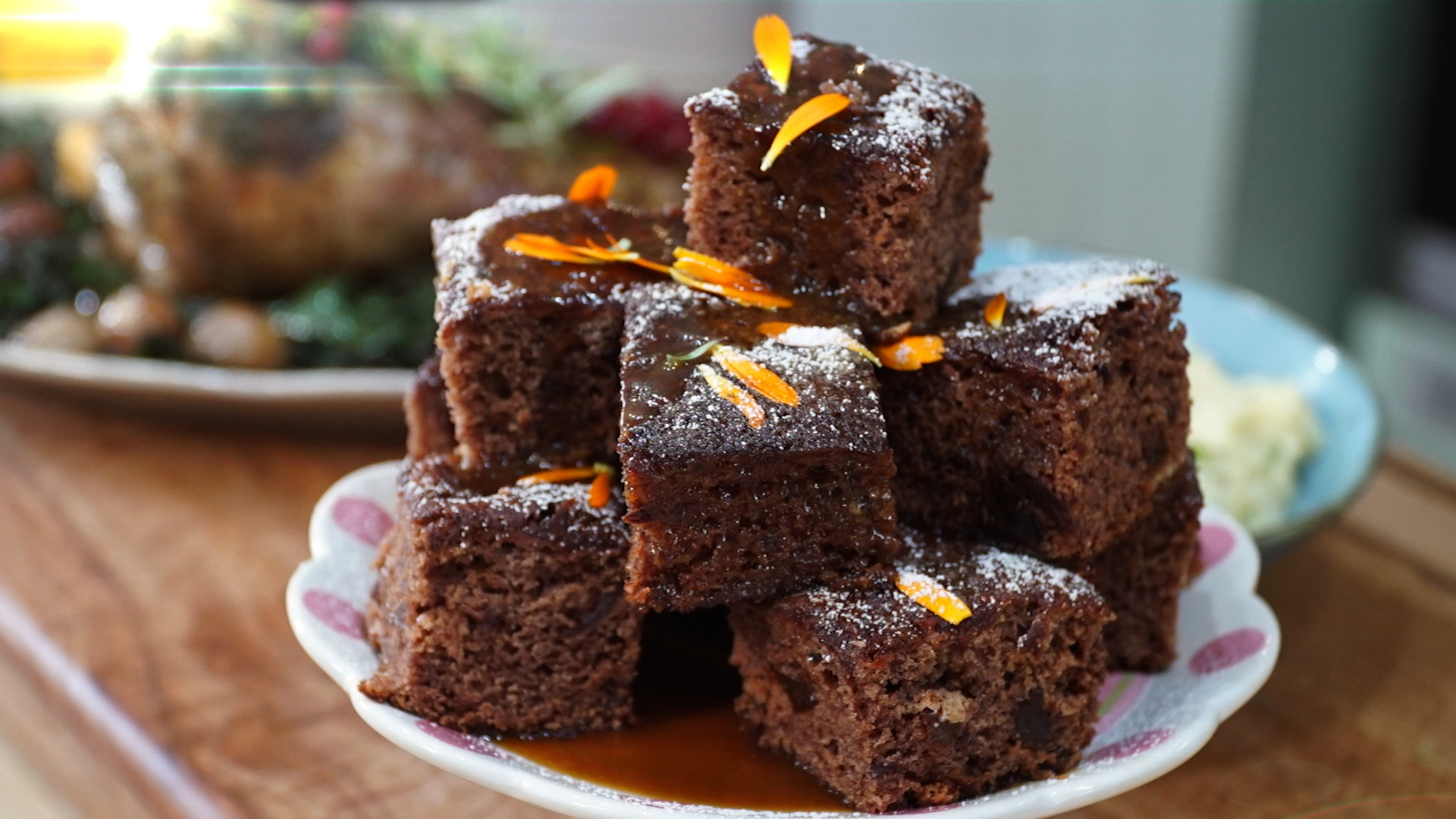 Servings: 16 Servings
Author: Chef Catherine Fulvio
For the sponge pudding:
Ingredients:
1 cup dates chopped (without stones)
½ cup water
½ cup Guinness
1 tsp baking soda
1 cup sugar
½ stick butter
2 eggs
¾ cup self-rising flour
½ cup raisins, soaked in ¼ cup whiskey or orange juice
1 tsp vanilla extract
Instructions:
Line a brownie baking tin with baking parchment paper.
Place the dates with the water, Guinness and baking soda in a saucepan over a low heat, until they soften, break down and a paste forms – it will take about 15 minutes. Leave to cool.
Preheat the oven to 350°F.
Cream the butter and sugar until pale, light, and fluffy and gradually beat in the eggs, one at a time. Fold in the flour, vanilla, raisins with the whiskey or orange juice and the date paste mixture.
Spoon into the prepared baking tin, bake for about 20 to 25 minutes until cooked or insert a skewer to check that it is done.
For the sauce:
Ingredients:
¾ cup cream
1 stick butter
½ cup dark brown sugar
¼ cup Guinness
powdered sugar, to dust
edible flowers, to garnish (optional)
Instructions:
To prepare the sauce, pour the cream into a saucepan with the butter, sugar and Guinness and bring to a boil, reduce the heat and simmer for about 8 to 10 minutes until a sauce forms.
To serve, remove the sponge pudding from the baking tin, peel away the parchment and slice into 16 pieces. Place onto a cake stand, dust with a little powdered sugar, garnish with edible flowers (optional), and spoon over the warm sauce.