RECIPE
Strawberry and Blueberry Fruit Tart
Catherine's Farmhouse Kitchen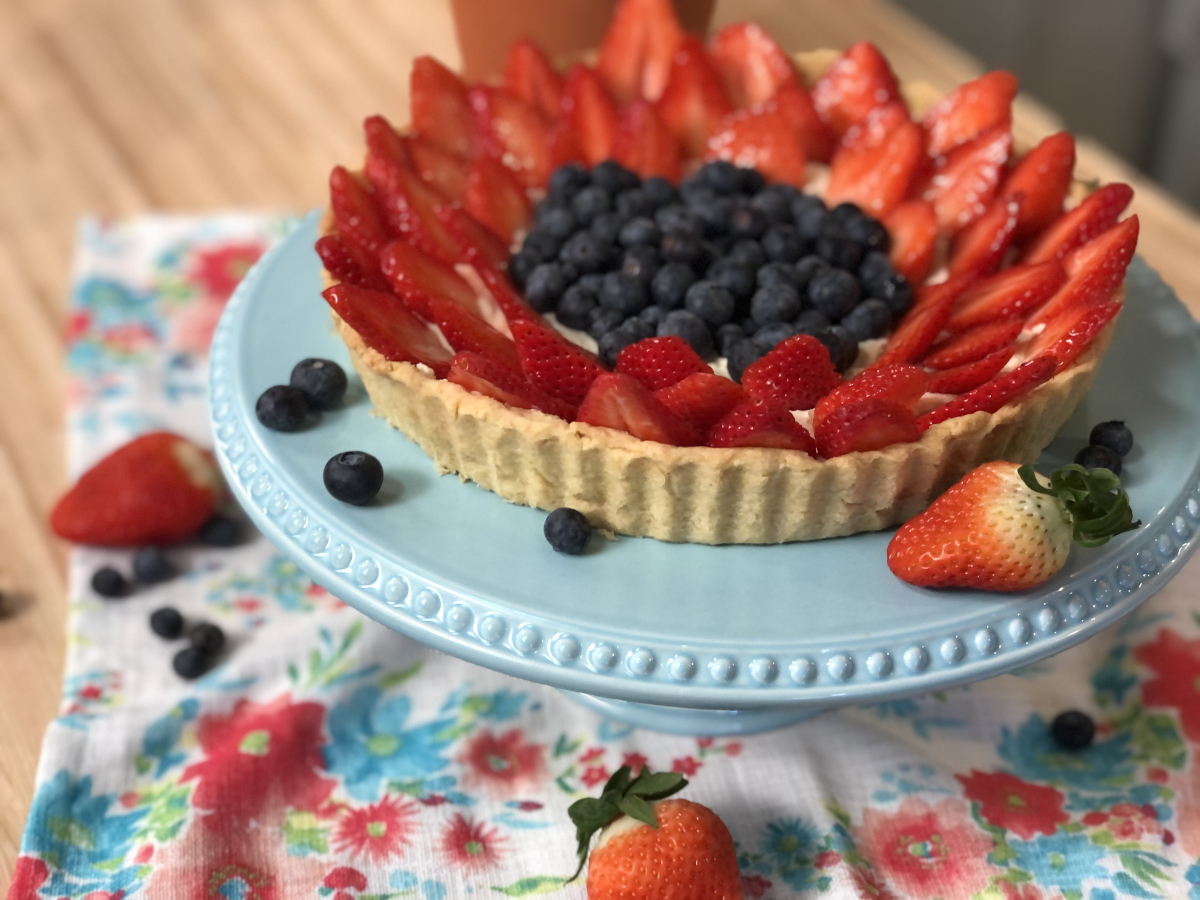 Serves: 8-10
Author: Chef Catherine Fulvio
Ingredients:
For the pastry,
• 1 ¾ cups flour
• ¼ cup sugar
• pinch of salt
• 1 stick chilled butter, diced
• 1 egg and 1 egg yolk, beaten
• egg wash (1 egg and 2 tbsp water mixed)
For the filling,
• ½ cup mascarpone
• 1 cup + 1 tbsp heavy whipping cream
• 3 tbsp Irish cream liqueur
• 4 tbsp powdered sugar
• 1 ½ cups strawberries, washed, hulled, and halved
• 1 ¼ cups blueberries
For the glaze,
• 2 tbsp apricot jam
• 1 tbsp water
Instructions:
1. Brush a 9-inch tart tin with melted butter and dust with flour.
2. To make the pastry, place the flour, sugar and salt into a large mixing bowl and stir together. Rub in the chilled butter until it resembles breadcrumbs. Slowly add the eggs, mixing well to form a soft pastry. Once the pastry dough has come together, carefully place on a lightly floured surface and knead together until it all comes together. Take care not to overwork the pastry or it will become too soft to roll out.
3. Wrap it with plastic wrap and leave it to rest in the fridge for 30 minutes.
4. Place the pastry on a floured surface and roll out thinly. Using the rolling pin, move the pastry across into the tart tin. Carefully press the pastry into the sides and on the base. Place on a baking tray.
5. Preheat the oven to 350°F.
6. Using a sharp knife, trim the edges of the pastry off and set aside. Lightly prick the base with a fork without piercing all the way through.
7. Line with baking parchment and fill with baking beans or pie weights. Place in the oven to bake for 12 minutes, remove the beans and parchment, check if there are any holes in the pastry, patch with the trimmed pieces. Brush with egg wash and bake for 10 minutes until golden and crisp. Leave in the tin to cool.
8. To make the filling, combine the mascarpone, Irish cream liqueur, powdered sugar and cream until smooth. Spoon the filling into the base. Arrange the strawberries and blueberries on top.
9. Mix the apricot jam and water in a small bowl and brush over the arranged fruit. Serve and enjoy!