RECIPE
Strawberry Tart
Recipe.TV Test Kitchen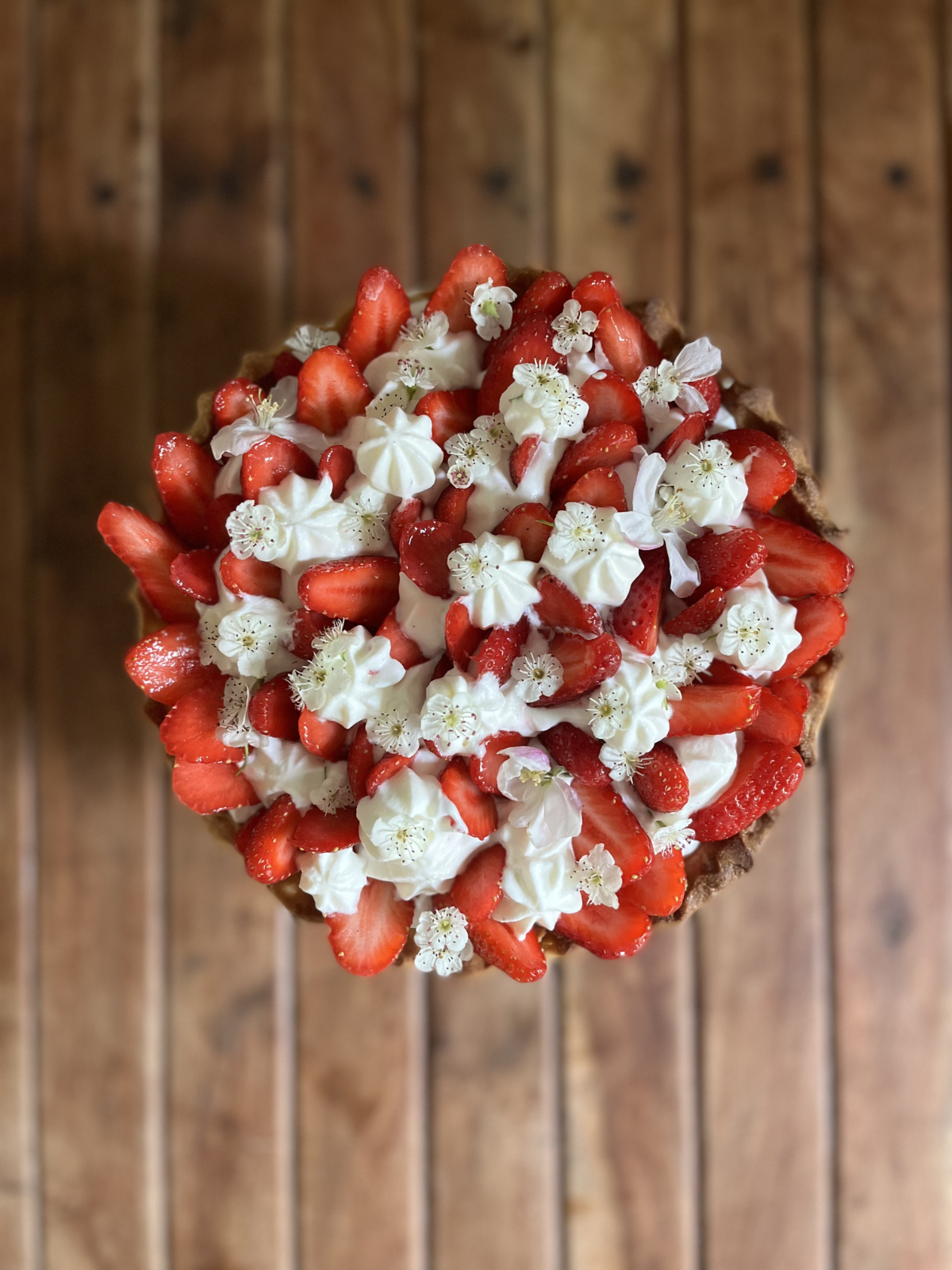 Serves: 8
Author: Chef Keda Black
Chef's Note:
In this seasonal dessert, fresh strawberries are laid on a Fontainebleau-style cream piped on a sweet pastry case. Fontainebleau (as well as being the name of a French Renaissance castle and an amazing forest near Paris) is a dessert made of cream whipped with fromage frais for a beautifully creamy, not too airy texture and an irresistible taste! You could also, just before you put in the cream, spread the cooked pastry case with a thin layer of lemon curd or strawberry jam. Just delicious! You could use also use ricotta instead of fromage frais.
Ingredients:
For the pastry,
• 2 cups flour
• 1 cup sugar
• pinch of salt
• 1 stick and 1 tbsp butter, cold and diced
• 1 egg
• zest of 1 orange
• ½ vanilla pod (or 1 ½ tsp vanilla extract)
For the cream/assembly,
• ¾ cup whipping cream
• ½ lb. strawberries
• 1-2 tbsp sugar, to taste
• ½ vanilla pod (or 1 ½ tsp vanilla extract)
• ½ cup fromage frais (or ricotta)
• edible flowers, to decorate
Directions:
1. On a work surface, mix the flour, sugar, and salt. Rub in the butter with your fingertips.
2. Whisk the egg with the orange zest and the scraped inside of half a vanilla pod (or vanilla extract).
3. Make a well in the center of the flour-butter mix. Pour in the egg mixture. Bring in the flour gradually, cutting through with a dough scraper (if you have one) or mixing with a rounded knife until everything agglomerates. Bring together the pastry with your hands, without working it too much. Wrap it up with plastic wrap and place in the fridge for an hour (you can make it up to two days in advance).
4. Preheat the oven to 350°F.
5. Roll out your pastry and line a tart dish – with this quantity you should be able to do 1 large 10-inch tart or two 7-inch smaller ones. If you have leftover pastry, freeze it. It's great to make more, roll it out and freeze it so you have it easily at hand.
6. Line the tart case with silicone paper on top of the pastry and fill it with baking beans (you can use any dry beans for this, which will be sacrificed to this purpose but which you can use forever) or pie weights. Make sure the sides of the pastry are well protected by the paper.
7. Bake for about 25 minutes, then remove paper and beans and bake for another 5-10 minutes. The tart case should be fully cooked. Let it cool down while you make the cream.
8. For the cream/assembly, in a medium bowl or stand mixer, whisk the cream to soft peaks, slowly adding the sugar and vanilla.
9. Whisk in the fromage frais (or ricotta).
10. Rinse, hull, and cut the strawberries. Pipe or spoon the cream in the cold pastry case. Arrange strawberries on top. Decorate with any edible, untreated flowers. I used hawthorns and apple blossom, which have a lovely honey taste. Rose petals would be amazing too!