RECIPE
Sweet Potato & Bacon Gnocchi With Burnt Butter And Sage
Thanksgiving Marathon of Recipes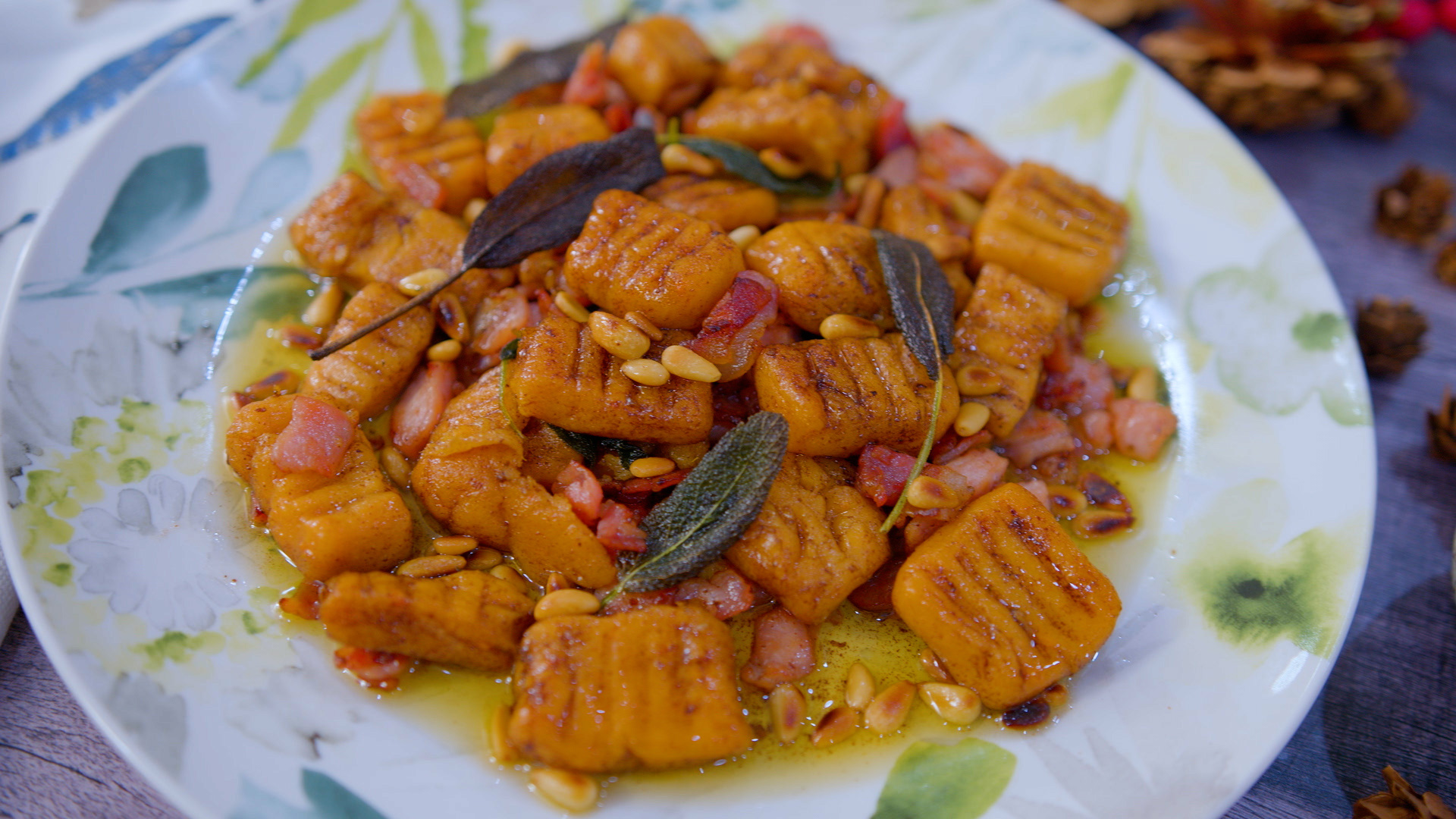 Sweet Potato & Bacon Gnocchi With Burnt Butter And Sage
Thanksgiving Marathon of Recipes
Ingredients
3

Sweet Potatoes

1

tbsp

Olive oil (to coat potatoes)

1

tbsp

Cinnamon

3

tbsp

Grated Parmesan 

3

tbsp

Ricotta

1

cup

Flour

1

Egg

8-10

Strips

Bacon - diced

½

cup

Butter

2

tbsp

Olive oil (to add to burnt butter)

Sprig Fresh Sage

Handful toasted pine nuts
Instructions
Begin by pre-heating the oven to 350°F. Using a fork, poke holes into the sweet potato, then drizzle with olive and place in the oven for 20-30 mins until sweet potatoes are cooked through. Then remove from oven and set aside to cool down.

Once cooled, remove skin and mash using a blender or fork. Then place in a bowl and add cinnamon, grated parmesan, ricotta, flour, egg and combine. Flour your surface then knead dough until smooth.

Cut the dough into 4 equal parts, then roll out into thick cigar shape. Using your thumb to measure, cut into equal pieces then press down using a fork to create a pattern.

Place gnocchi in boiling water and when they pop up from the bottom of the pot then they are done. Set aside while you carry on with other elements.

In a pan at medium heat, pan fry bacon until crispy then set aside. Using the same pan, add butter once nutty and slightly brown add olive oil. For the aromatics add sage, then combine and add cooked gnocchi. Toss and add in the bacon and combine.

Finish off with toasted pine nuts and serve! Enjoy!