RECIPE
Wicklow Lamb with Redcurrant Sauce
A Taste of Ireland: Ballyknocken Cookery School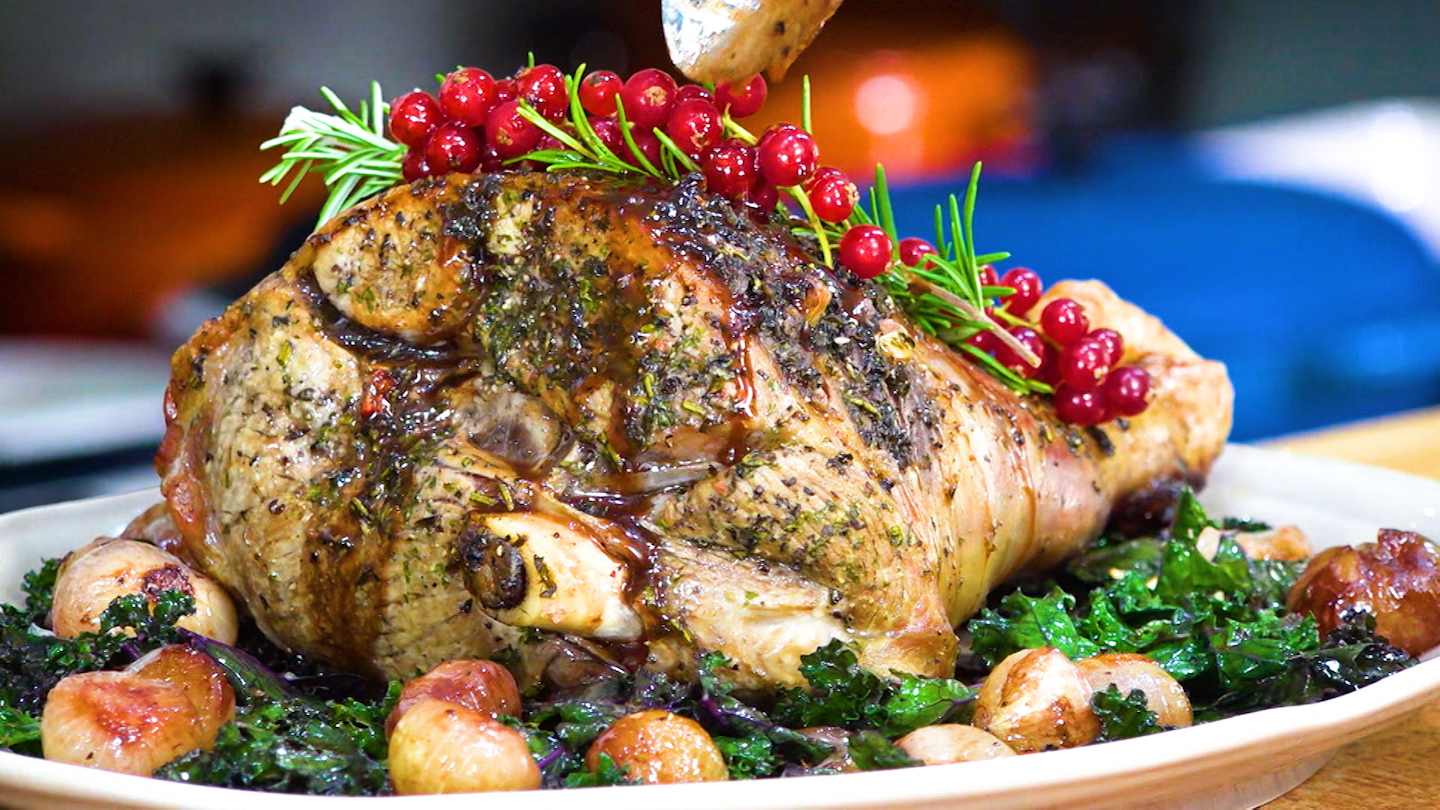 Servings: 6 to 8 Servings
Author: Chef Catherine Fulvio
For the lamb:
Ingredients:
3.5 lb leg of Wicklow lamb
4 garlic cloves, sliced in half
3 tbsp rapeseed (canola) oil
1 tbsp chopped fresh oregano
1 tbsp chopped fresh rosemary
1 tbsp chopped fresh parsley
20 shallots, peeled, keep whole
½ cup red wine
½ cup chicken stock
Instructions:
Preheat the oven to 350°F.
Make incisions in the lamb and tuck in the sliced garlic.
Mix the oil, herbs and some salt and freshly ground black pepper together.
To roast, place the lamb on an oiled roasting tray and rub the herb oil mix over. Add the shallots, wine and stock and roast for about 1 hour and 15 minutes or until the lamb is cooked to your required doneness. Baste from time to time and cover the meat with foil if you feel it is getting too dry on top.
When ready, remove the lamb from the roasting tray, cover and keep warm, allowing it to rest for 15 minutes.
For the redcurrant sauce:
Ingredients:
1 cup red currants (plus more, for garnish)
4 tbsp redcurrant jam
2 tbsp brown sugar
1 tsp chopped fresh rosemary
1 tbsp apple cider vinegar
salt and freshly ground black pepper
rosemary to garnish
Instructions:
Strain the fat from roasting juices then place the roasting tray on the stove over a medium heat and reduce the liquid by a third. Stir in the redcurrants, redcurrant jelly, sugar and rosemary and simmer for about 3 minutes.
Check the seasoning, add the apple cider vinegar, followed by salt, and freshly ground black pepper to taste.
To serve, carve the lamb, garnish with redcurrants and rosemary and serve with the sauce, herby cham, and sautéed kale.