RECIPE
Yogurt, Cucumber, and Mint, Salad
French Country Cooking with Edward Delling-Williams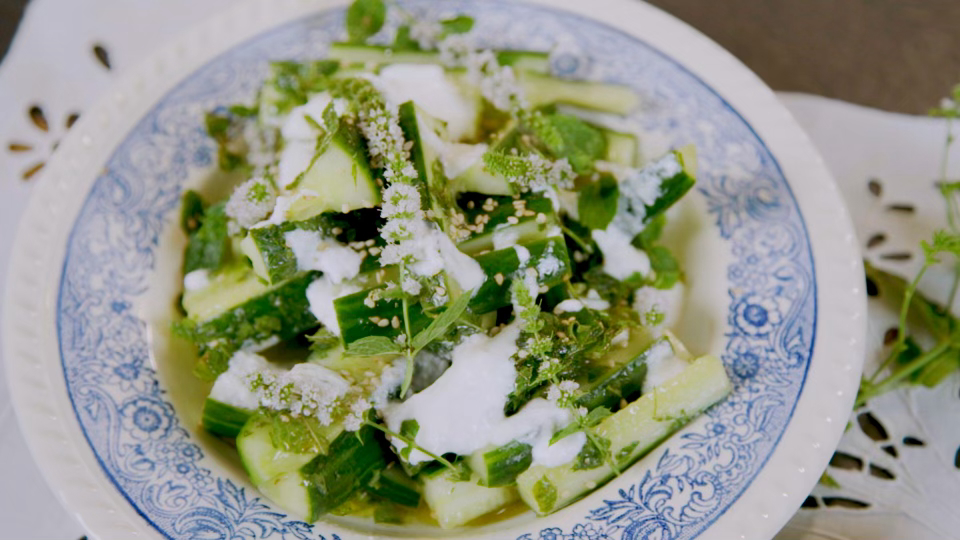 Servings: 2-3
Author: Chef Edward Delling-Williams
Chef's Note: Start this at least one day before serving. The longer that you strain the yogurt the thicker and more labneh-like (or Greek yogurt-like) it will become. I like mine quite thick. I normally keep a little of this yogurt (that hasn't been strained too much) on the side of the fridge to add to the next batch that I make rather than buying more each time. Store in a clean container in the fridge and it should last up to 6 days.
To make the yogurt:
Ingredients:
4 ¼ cups fresh sheep's milk
½ cup fresh yogurt
Instructions:
Put your sheep's milk into a large saucepan over medium heat and bring the temperature up to about 185 °F (using an instant-read thermometer to check regularly) and then let it cool to 100 °F. As soon as it is at 100°F drop in the yogurt, cover, and leave in a nice warm place for 12 hours.
Strain off the liquid through a cheesecloth (or clean dishcloth if you are like me) and voila you have yogurt!
To prepare/serve:
Ingredients:
1 medium cucumber
bunch of fresh mint
½ tbsp capers
½ tbsp poppy seeds
1 tbsp olive oil
½ tsp kosher salt
½ lemon, juice
Instructions:
Chop the mint and cut the cucumber into shapes that you love to eat! I change mine every time! Then combine these two in a bowl and add the salt, olive oil, capers, and lemon juice and give it a good toss.
Scoop the mixture onto a plate with a large dollop of the yogurt and dress with poppy seeds. Banging!